White Pine is a true independent eatery in Fitzrovia - and it's loved by locals.
Based on 140 google reviews White Pine has an excellent average rating of 4.6. The majority of people enjoy this place for the food and the decor as there is a large range of house plants to buy or admire as you drink your coffee or fresh juice.
The lower ratings tend to come from comments that the coffee is overpriced - which we'll touch on a little later in this review. 
About White Pine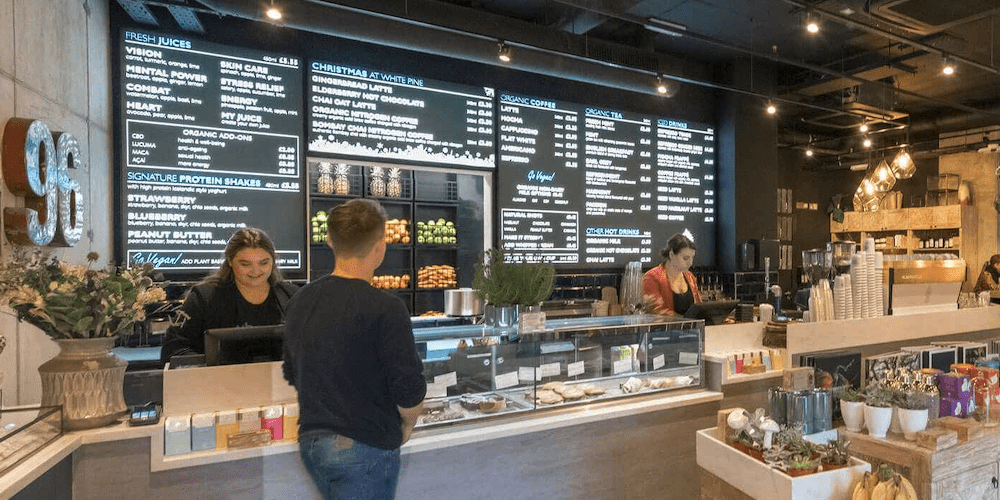 White Pine is a small independent coffee and eco-sustainability store. As well as having a vegan friendly menu, juices, shakes and coffee. They also stock a huge range of Nordic style home decor, plants books and cosmetic products. Their main goal is to provide a place that offers responsibility and sustainability sourced products.
White Pine has been open since 2018 near Oxford St and has just opened a second store close to the Seven Dials Market area of Covent Garden. 
Location
White Pine is located just off of the busy shopping streets of Oxford St and Tottenham Court Road. It offers a quiet location to take a break away from the hustle and bustle. It can be found at 35-36 Rathbone St in Fitzrovia. 
A second store can be found further away at the seven dials market at 33 Earlham st. This is close to Covent Garden and lots of small independent clothing/arty stores
How to get there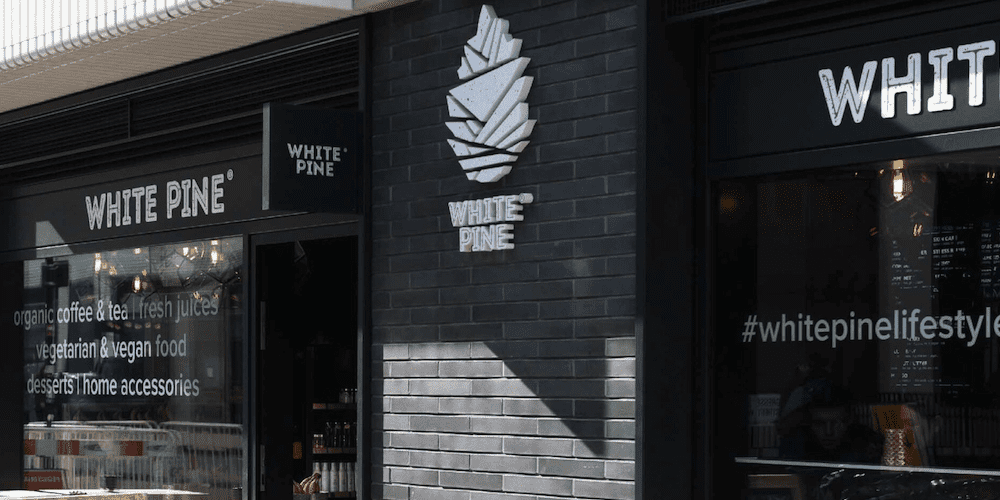 White Pine is a 5 min walk from Tottenham Court Road underground station this would be your best in terms of the underground. This station is serviced by both the Northern and Central lines. 
If you are arriving by Santander bike hire then you will find a bike station on the outside of Soho Square which should have plenty of spots to park and also hire again when you are ready to go home again. White Pine also have bike parking right outside of the store so if you are coming with your own bike, it provides a convenient location to keep an eye on your bike while you sip a coffee
Due to its central location off the main shopping streets you will find it easy to arrive from east or west by bus. A 3min walk away you will find a bus stop on Tottenham Court Road serviced by the number 55, 73, 98 and 390 buses.
Price range
In terms of your coffee choice price this will be £2.65 for an espresso or £3.35 for something taller. If you are looking for a juice or a shake then this will be between £6 and £8 depending if you want more of a juice or protein shake. 
For breakfast there are a number of superfood smoothie bowls for £8.95 or for lunch they also have a range of sandwiches on rye bread for £6.95.
A few Google reviews suggest the coffee is overpriced. Sure, against the cost of Pret, you're adding a pound or so - but not everyone loves Pret. If you're looking for the cheapest coffee possible (which is totally fine!) then head to Pret - but if you're looking for great coffee and great service from an ethical independent with plenty of soul, then your money is well spent here.
Specialist diets catered for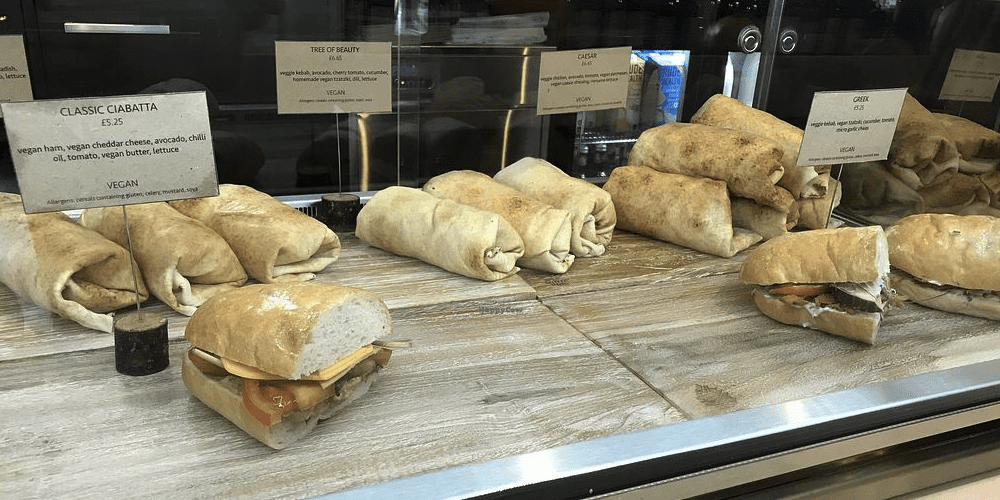 White Pine is a primarily Vegan and Vegetarian coffee shop you will not need to hunt through the menu to find the only vegetarian item. They also offer milk alternatives for your coffee and shakes so if you are dairy intolerant this place will also be a good bet for you. 
Best healthy snacks option
If you are after a smaller meal or snack then the best bet for a healthy option would be their range of overnight soaked oats with coconut milk. The blueberry-chia overnight oats is a crowd favorite and excellent for something small on the go.
Best high protein option/balanced macronutrient option
Even though they specialise in veggie food options you can still hit those high protein goals with the use of their protein shakes. The White Pine way is to use the icelandic yogurt Skyr - which is naturally high in protein and provides an excellent high protein post workout meal or pick me up. 
These shakes also offer the best option for a balanced macronutrient meal with carbs from fruit, fat from the chia seeds and skyr and protein from the skyr yogurt. Nothing artificial added and you know exactly what is in it.
Best veggie option
Pretty much the whole menu is going to be good if you are vegetarian but if you are in for breakfast or earlier in the day then check out their superfood smoothie bowl options. They provide a decent balanced breakfast to kick start your day. With added chia and hemp seeds it provides plenty of good fats to keep you full for longer.
Best vegan option
Again, because White Pine specifically caters for veggie or vegan options. Most of the menu will be suitable, especially where they have coconut yogurt instead of the dairy based Skyr. 
If you are here later in the day or fancy a delicious highly rated sandwich then their range of vegan sandwich options are a good bet here for the vegan and meat eaters alike. The white pine club sandwich is highly rated and recommended. It comes with vegan chicken, tomato, basil and smashed avocado.
If you prefer all of the superfood smoothie bowls are made with coconut milk and provide an excellent breakfast (see above for veggie option for these)
Additional Info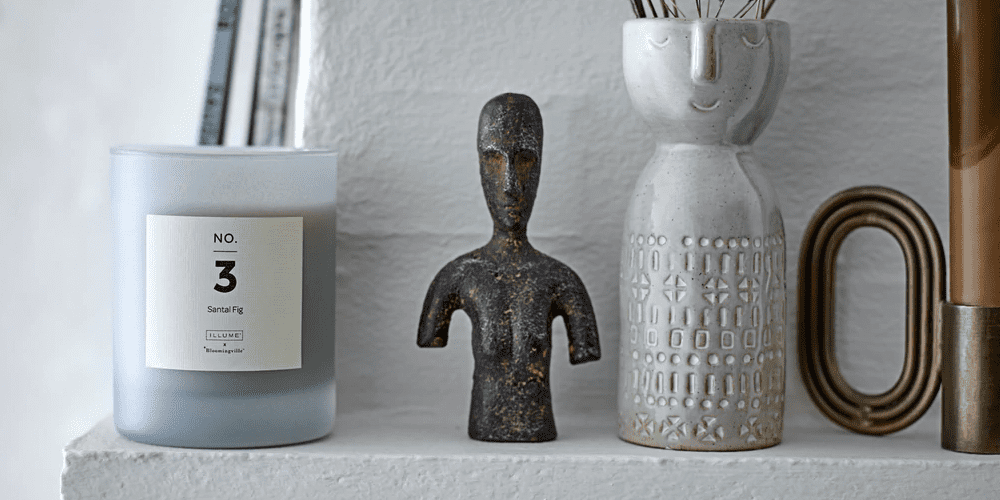 As mentioned, White Pine can seem a little expensive at first glance - but with the quality of products and  food in most nordic themed stores you will not be disappointed. 
They also sell a wide range of other non food related products from eco cosmetics to books and house plants. You can spend a bit of time roaming the store and finding the perfect gift for someone special.