Friendly, Fresh, healthy and quality are the words of Honi Poke Soho patrons. Tucked away from the hustle and bustle, Honi Poke is ideal for anyone looking to slip off for a satisfying lunch break packed with Hawaian flavours. With its Google rating sitting at a solid 4.4 stars you're in for a high quality poke experience.
It's simply pokelicious!
About Honi Poke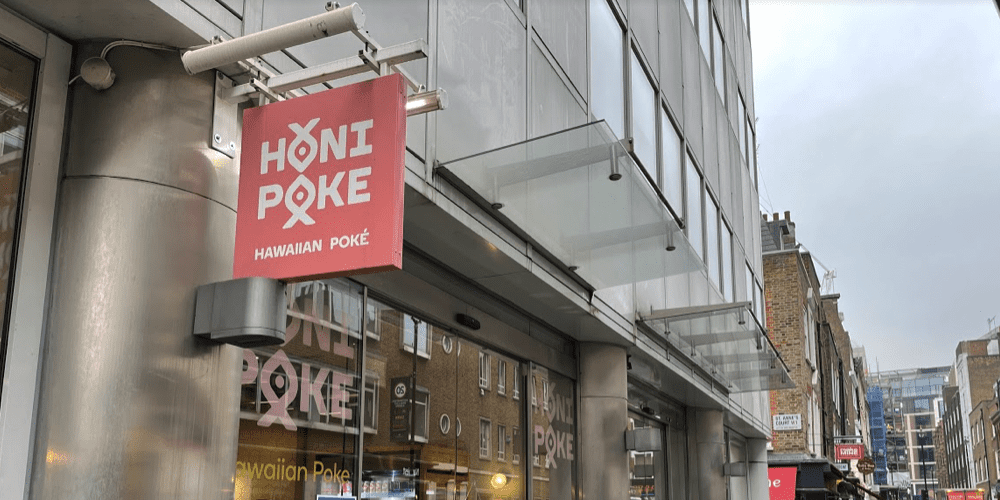 The Honi Poke mission statement is simple. To boost wellbeing by bringing sunshine.
I'm not sure they can quite overcome the forever overcast British weather, but they are definitely boosting customers' well-being with their nutrient dense menu options. While nailing the convenient, healthy, and delightfully delicious market niche. Honi Poke believes in the restorative power of fresh, healthy and tasty food. 
The Honi Poke hawaian journey started in 2017 as the poke wave swept through LA, NYC and London. From its origins in the street food markets here in the captial. Since then they have received 4 star accolades from Timeout and are ranked 4th most popular dish on Deliveroo. 
Honi Poke are as healthy as they are wholesome and sustainable. Nature is at the heart of Hawaiian culture, the natives call themselves "The children of the land". Honi Poke believes food should strive to be as sustainable as it is satisfying. This is why they work so hard to make their environmental impact as small as possible. British chicken, sustainably caught fish like Scottish salmon and line caught yellowfin tuna, and to top it all off compostable containers.
And, because all food is prepared to order, Honi Poke restaurants produce close to 0% waste. Awesome food with no guilt.
Location
Honi Poke is spread across multiple London locations across London. Angel, Marylebone, Southbank to name just a few. And the Soho location is just round the corner from our Soho Studio and less than 5 minutes walk from our Fitzrovia Studio.
Nestled into the Soho Square end of Dean street, a street famed for its sumptuous hotels, private members clubs, fine dining restaurants, down to earth pubs and trendsetting theatre. You can really feel the Soho at Honi Poke Soho. 
Just off the coast of chinatown. Situated just a few doors away from the infamous Soho House, and Dean Street Townhouse, Honi Poke is right in the heart of Soho. Their smiley staff and great music selection keep Honi Poke in keeping with Soho's lively reputation.
Honi Poke is always busy. If you can't find a seat inside you can always nip round the corner and take your delicious poke bowl to the famous Soho Square and perch on a bench, or on the grass and enjoy some fresh, high quality poke while soaking up the scenery.
How to get there
Honi Poke is easily accessible from multiple tube stations. Namely, Oxford Circus, Tottenham Court Road, Piccadilly Circus, Leicester Square via the Central, Victoria, Bakerloo, Piccadilly and Northern lines.
Bus routes that pass near Honi Poke Soho 12, 14, 176, 38, 73, 94, 98.
If you fancy an active travel from Honi Poke to your next destination you can grab yourself a Santander Bike from the docking station on Soho Square. No bikes available, no problem if you walk 2 minutes up Wardour Street towards China Town you will find another bike dock.
Price range
Beautifully presented, nutritious and delicious bows for under £8. If you have a smaller appetite you can choose from the Mini Poke menu for a sub £6 spend. You can do whatever you want for less than a tenner with the "Build your Own" option, so enjoy getting creative with this one! Also if you need extra protein you can add an extra scoop of protein for £1.50. 
Build your own breakdown:
Choose a base of sushi rice, brown rice or veg slaw or mix them all up. Pick your protein. Select your sauce options include; teriyaki, sesame soy, chilli garlic, ginger soy, sriracha mayo, wasabi mayo. Top it off with a choice of 10+ toppings ranging from; edamame to mango to steamed broccoli. Go on, personalise your bowl.
You're well covered in the drinks department. Drink options include Cawston press; ginger beer, sparkling elderflower, crisp sparkling apple for £1.50. A range of health drinks from Daily Dose if you're looking for an immune boost for £3.80. Honi poke obviously stocks the classics… diet, zero and regular Coke all for £1.50. Still and sparkling water from Bleu. And Fix8 Kimchi for £2.80.
Honi Poke offers snacks ranging from snack bars to Seaweed crisps. So if you're looking for something on the side any of these are a great addition to any order. Sweet tooth? Chocolate Ganache and Cheese cake mochi are situated at the top of the drinks fridge. Yum!
Specialist diets catered for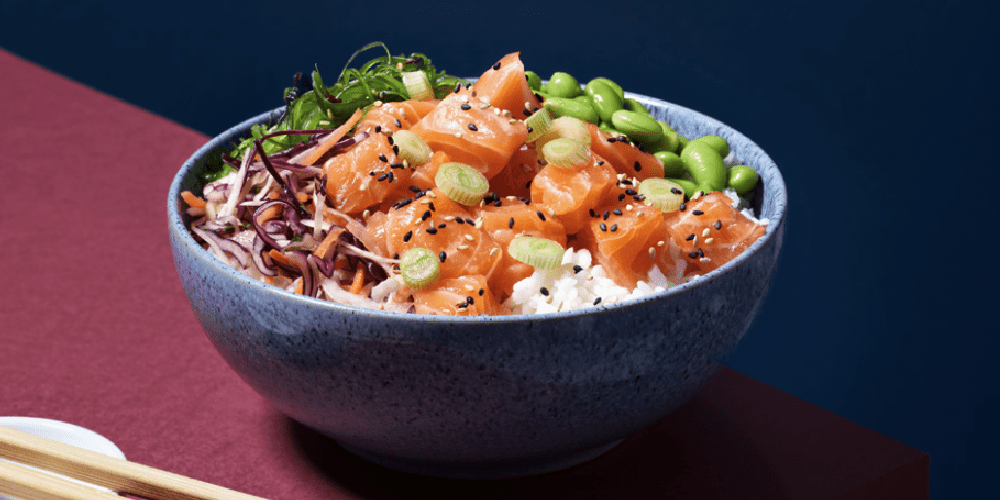 Veggie or Vegan? You're well catered for at Honi Poke.
Avocado & Mango, Korean Pulled "Pork" (don't worry the pork is fake… it's just Jackfruit), Falafel are your choices. And of course you have the aforementioned build your own option.
Wonderful news for those requiring a gluten free poke bowl! All sauces at Honi Poke are gluten free. 
Best high protein option
Poke is definitely a protein packed lunch option.
All meat or fish based bowls will provide roughly 15-20g of protein per portion.
Now if you're of a larger stature, or into your fitness, you might want to add an extra scoop of protein to your order and boost your recovery from training. Poke… What a great post workout meal! 
Best balanced macronutrient option
Every bowl you buy from Honi Poke will provide you with a well balanced macronutrient profile. They all have an excellent distribution between healthy protein, carbohydrate and fats. Poke business is most likely one of the healthiest options if you're buying lunch. 
So, for those trying to shift a few pounds, lead a healthy active lifestyle and feel healthier, this is your holy grail.
Best low-carb option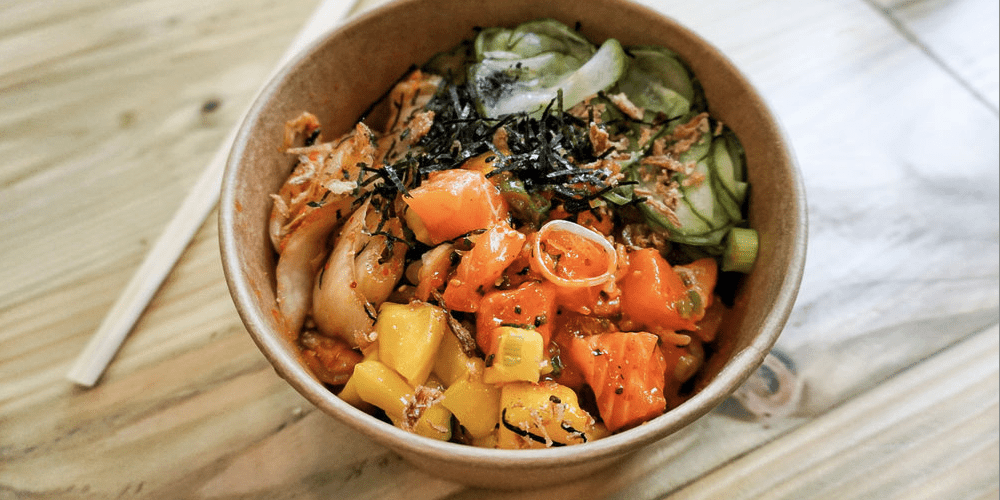 If your steering clear of carbohydrates then Honi Poke have you well covered with their veg slaw option as a substitute for rice. 
The brown rice is also an excellent option to make your bowl super healthy and full of slow release, complex carbohydrates to keep you energised throughout the day.
Better still, why not go for 50/50 Brown rice and Veg Slaw? It's the best of both worlds!
Additional Info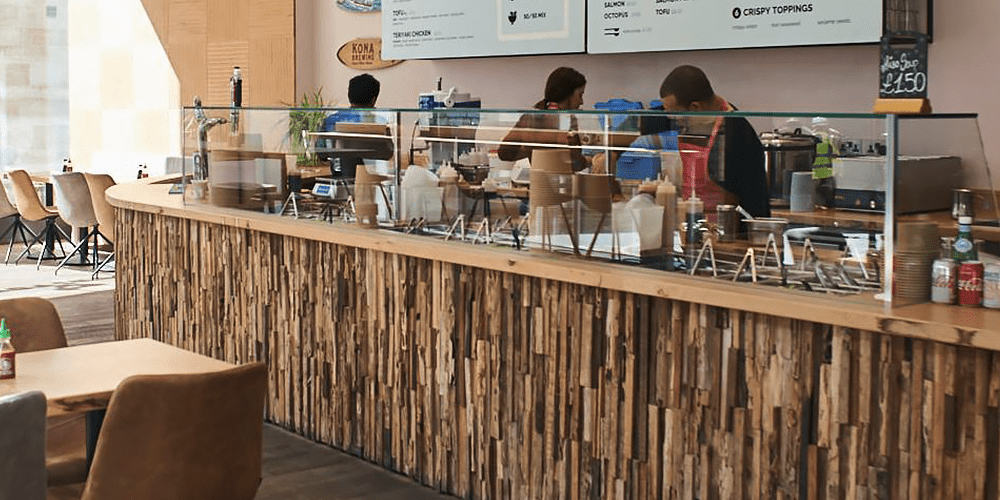 Honi Poke could be one of the best spots for a healthy, nutrient dense, sustainably sourced lunchtime indulgence in London.
Not to mention they have big plans for expansion - so it looks like a Honi Poke will be arriving somewhere near you very soon. Honi Poke, what a fantastic option to add to your lunch location rotation!