Carbon has a 4.2 Google review rating from a modest 156 google reviews - which I feel doesn't do this Soho institution justice. Mainly because of the hundreds of people that go there each and everyday! I have been there and had a ticket number of 234, which I feel tells you everything about the number of people that frequent there for their lunch break. 
About Carbon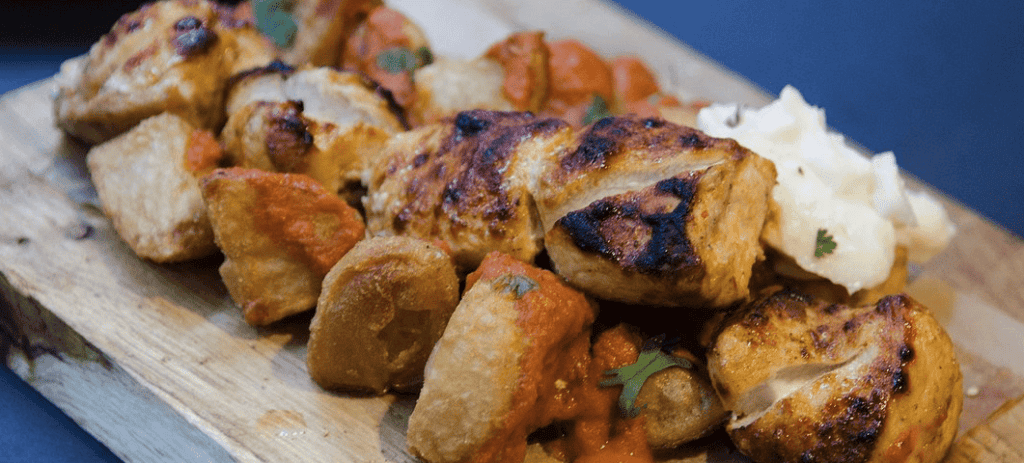 Carbon describes itself as an eclectic charcoal grill restaurant located in the heart of London's Soho and Covent Garden.
​Their menu is a combination of different grilled meat, fish and vegetables from selected countries cooked over a wood charcoal grill with traditional garnishes.
With a mix of offerings from meal boxes, wraps and salads if you are looking for a quick and easy bite to take on the move or back to the office then Carbon could be for you.
Location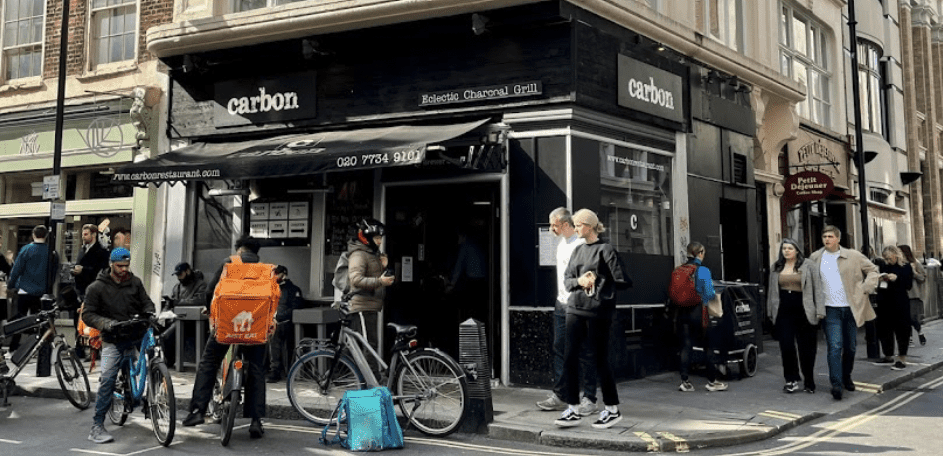 Carbon's Soho site is located right on the corner along Brewer Street, only 200m from Regent Street, around the corner from Whole Foods and the Stone Island flagship store. 
How to get there
Easiest routes to Carbon in Soho will be to hop on the tube and get off at Picadilly Circus Station as this is just around the corner.
If on the bus, the nearest bus stop is Picadilly Circus Stop F which services buses: 12, 88, 94 139, 159, 453, N3, N15, N18, N109, N113, N136
Price range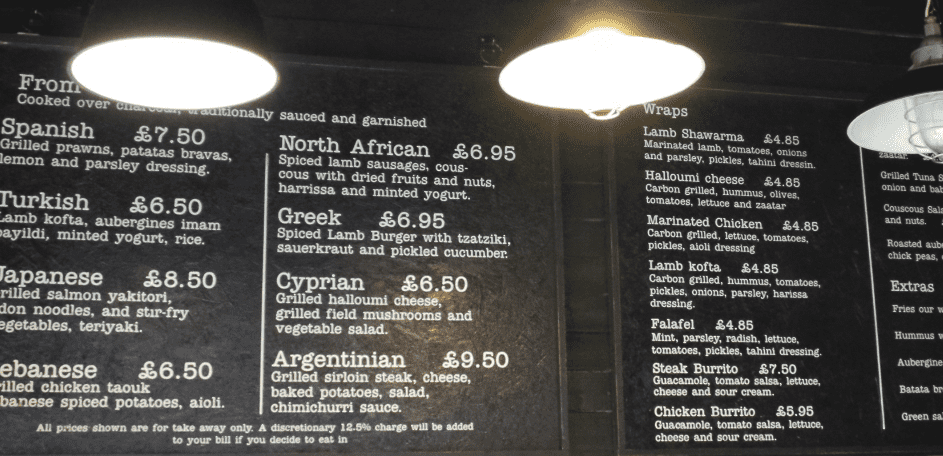 Carbon's signature boxes range between £7 and £15 depending on which you choose and if you add any additions - such as extra chicken or halloumi for example. 
Wraps are in a lower price range from £6-£10 depending on your choice.
Salads are similar to the main meal boxes for price within the £7-£15 price range.
Specialist diets catered for
Sp, do Carbon offer any specific dietary options – gluten, vegan, veggie, etc?
Yes they do! They have three Gluten Free options within their menu. Their most popular main meal box the Lebanese is gluten free, their Spanish box is also gluten free. In terms of salads, they have the delicious chicken salad - which is also gluten free. 
They have a vegetarian option within their salad box choices which is the Peruvian quinoa option. 
Best healthy snacks option
Carbon is known for its range of great grilled meats and fish, but snacks is not their forté. They do have some smaller side options that could work well as a post-session/pre-session snack (such as their chicken in a box option for some post workout protein), however they offer not much else in the snack section. 
Best high protein option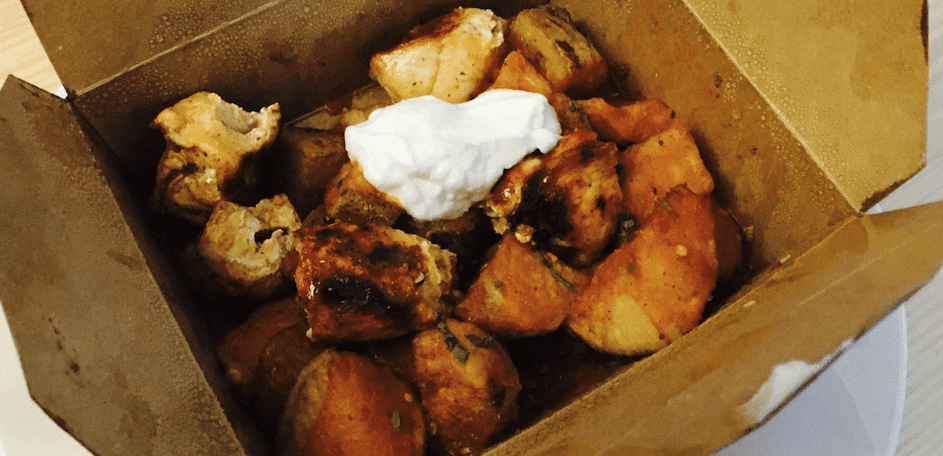 For the best high protein options you don't need to look much further than Carbon - they have many. 
Choose any of their main meal boxes for a great protein hit!
Their Lebanese option hosts a great portion of chicken, the Turkish box offers you a great portion of Lamb Kofta, the Argentine will do if you are looking for some great steak, whilst the North African will give you your protein through their spiced lamb sausage. Lastly, if you are looking for a protein hit from the ocean, then the Spanish box serves up a great portion of succulent prawns. 
Best balanced macronutrient option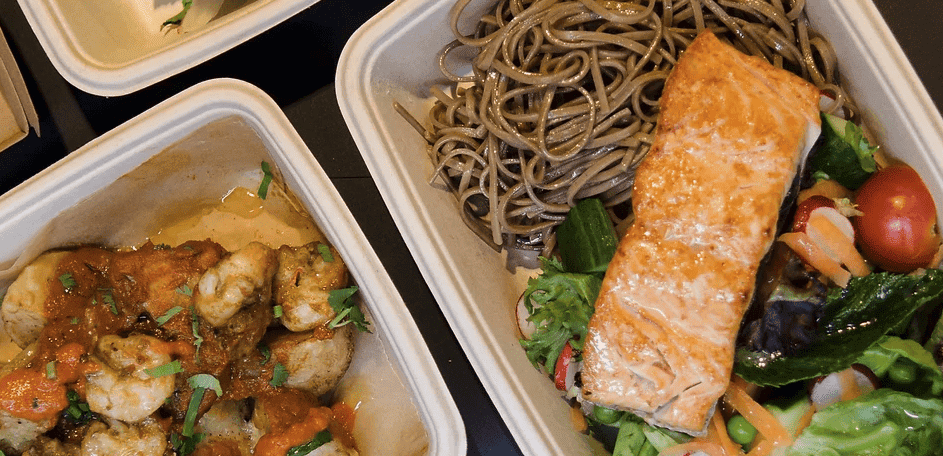 The best balanced macronutrient meal would have to be their North African meal box with its source of protein being the Lamb Sausage, a solid portion of carbohydrate coming from the couscous, and then you will be hitting your fats from the nuts within the couscous. 
Best low-carb option
Looking for low carb? Don't look any further than their salad boxes. Not a carbohydrate in sight. Get your protein source from either their chicken, salmon or halloumi options with all the important micronutrients from the accompanying salad. 
Best veggie option
Now, you would be forgiven for thinking that as somewhere that advertises itself as an eclectic meat and fish grill spot that vegetarian options are not high up on their list but they do provide one option which is their Peruvian quinoa salad box: 
"Red and white quinoa, avocado, sweetcorn, cherry tomatoes, cucumber, spring onion, toasted nuts, feta, baby leaves & pomegranate dressing."
The best part is - it's delicious.
Additional Info
I personally have had a few Carbon boxes, after being told about it by one of my clients. The sheer number of people queuing up outside each lunchtime speaks testament to how popular it is around the streets of Soho and nearby. 
If you are looking for a great box meal to take back to the office, a wrap to have on the go or a great salad meal other than one from a supermarket with great grilled meat or fish then you need to give Carbon a go.