This post is part of our Best Parks for Running in London series – put together by our dedicated running clinic team.
Kensington Gardens provides excellent opportunities for long slow duration runs, interval running, trail running and personal best attempts.
Mostly flat with small inclines and declines this park and its vistas provide for a wonderful place to complete your exercise for the day whether running or other. It's not uncommon to see people practicing yoga, Pilates, HIIT training, strength training on the benches, roller skating, skateboarding, cycling & more – this really is a park for the fitness enthusiast.
Kensington Gardens offers a range of different running options from a 5km loop to a min 100m slight incline sprint distance hill.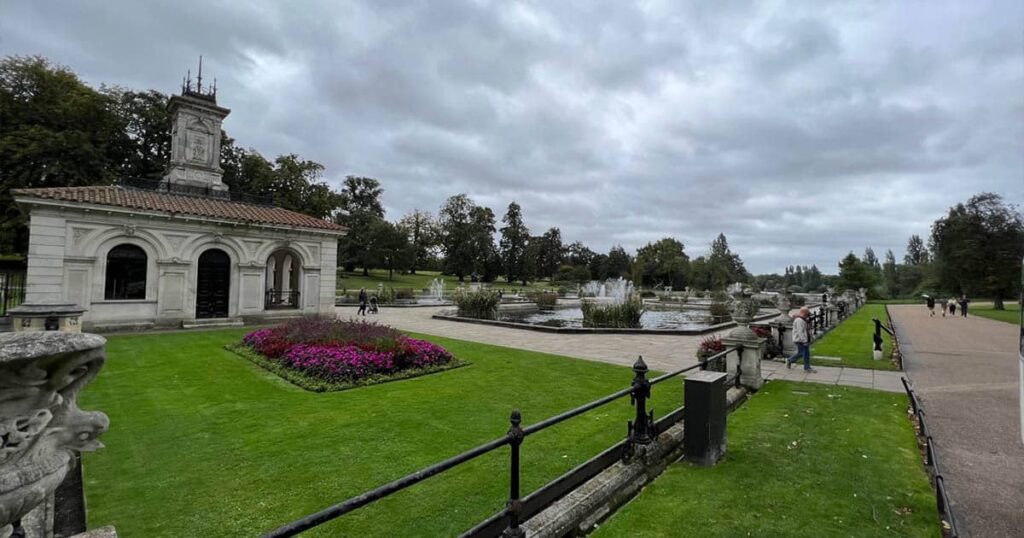 About Kensington Gardens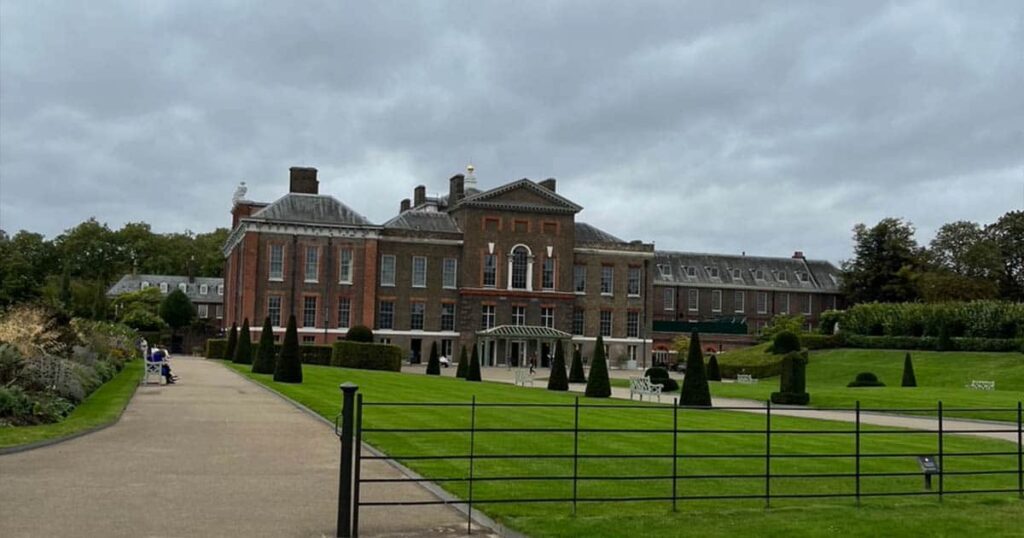 Kensington Gardens forms a part of Hyde Park and is home to Kensington Palace most famous for Princess Diana's London residence.
The park and its surrounding are beautiful and incredibly well manicured by the royal parks. The lake which is located opposite the palace used to be used by the Royals for their firework displays and special occasions.
The Royals and their guests would gather in the rooms and terraces that face the lake and watch the displays whilst socialising and courting. At the far north western side of the park you will find Princess Diana's children's playground which is a huge hit with both locals and tourists providing children with an incredible and magical playground.
At the far north eastern side of Kensington Gardens you will find the most exquisite fountain display which is well worth stopping for, even for a short couple of seconds to take a quick photo!
At the south east section of Kensington Gardens you will find the iconic Royal Albert Hall and the Albert Memorial itself.
The park is surrounded by a fantastic collection of restaurants and cafes providing you with endless options for pre workout and post workout eating and drinking options. The parks contain good public toilets which are kept clean and hygienic at all times by the Royal Parks and their team.
Getting to Kensington Gardens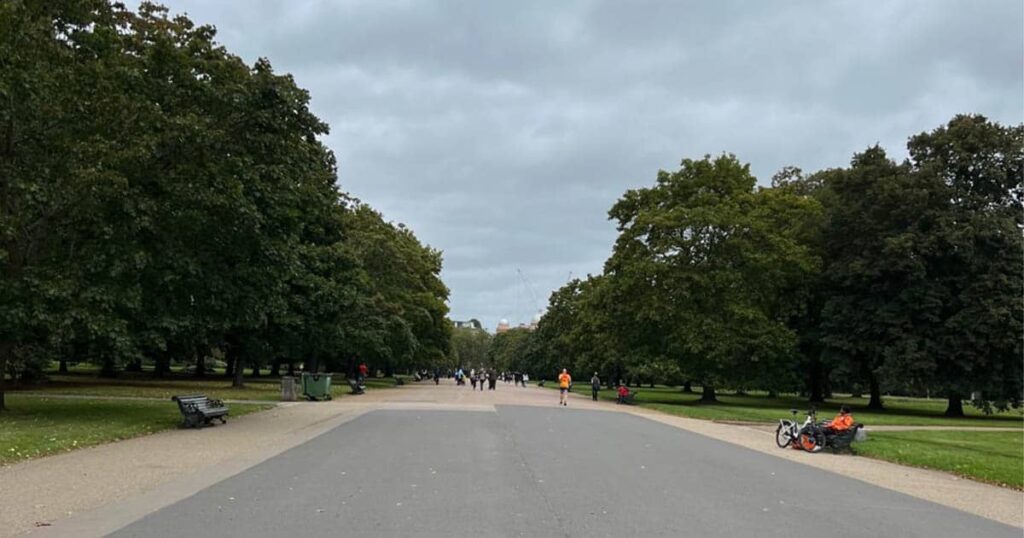 Kensington Gardens has lots of tube station access points. Please find below a list and the rough entry points to the park which are closest to the tube station
Knightsbridge (Picaddilly line) – 5-10 mins walk to Kensington Gardens
High Street Kensington (Circle, District and Overground) – 4-5 min walk to the most south western part of the park which contains Kensington Palace
Queensway (Central Line) – 2 min walk to the most north western section of the park which has Diana's childrens playpark
Lancaster Gate (Central Line) – 2 min walk to the most north eastern section of the park which enters where the most beautiful fountain display are located
In terms of bus routes the park is surrounded by the major roads into London and depending on what side of the park you are entering from or indeed which location in London you are travelling from you are almost guaranteed to have a stop that services your needs. Please find below the stops which service Notting Hill Gate and High Street Kensington which provide access to the park and enable you to get close to any area of the park within a 10-15 min walk max.
Notting Hill Gate Bus Stop Routes: 70, 94, 148, N207 (N provides night service providing 24 hours access via these routes)
High Street Kensington Bus Stop Routes: 9, 23, 49, 52, 70, 452, N9 (N provides night service providing 24 hours access via these routes)
Kensington Gardens is also one of the best connected locations for Santander bikes.
Kensington Gardens is located between Notting Hill & High Street Kensington. On the far west side of the park you will find high street Kensington and 'millionaires row' which you will find and be able to view some of the largest and most luxurious residential properties in London and on the far east side of the park you will find the start of Hyde Park which then leads east all the way through to Mayfair.
All surrounding locations are in the boroughs of Westminster and Kensington and Chelsea and are considered to be the wealthiest and most affluent boroughs in Central London with Kensington Gardens providing one of the major attractions and reasons for living nearby.
Why Kensington Gardens is a good choice for runners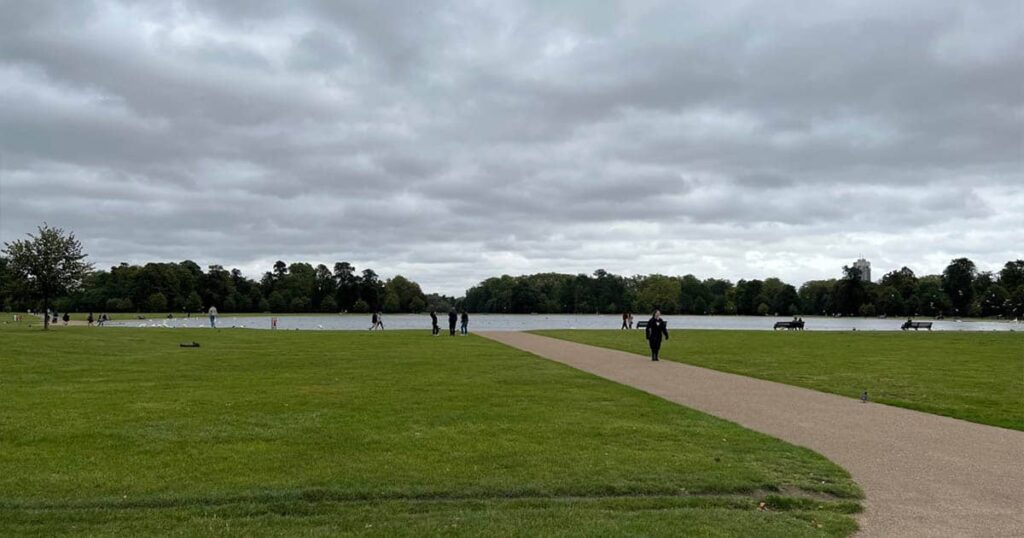 Incredibly centrally located with the added bonus of spectacular views and opportunities to take in history whilst on the go, Kensington Gardens provides an excellent ground for most levels of runners.
Whether you're attempting your 5km personal best OR out for a quick 20-30 min run whilst on business, this park ticks a lot of boxes and is highly ranked as one of the best parks for running.
The park provides the ability to run on the pathways which are always kept clean and immaculate and you also have the ability to run completely off concrete for an entire lap using the slightly internal trails that hug the main concrete paths.
WIth slight inclines and declines the terrain and gradients change ever so slightly but not enough to put a big challenge in front of any level of runner. The Serpentine gallery is located on the east side of the park and just behind is a long grassy stretch which is perfect for completing lower impact sprint interval training. 
Runs in Kensington Gardens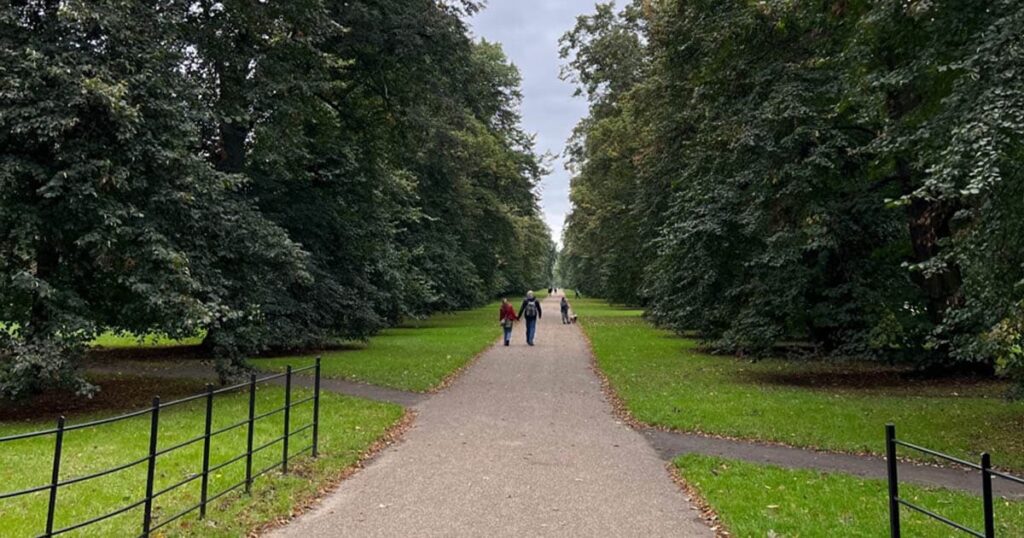 The are so many route options many of which can be found if you use apps such as Strava.
Our favourites include the two triangle approach which can be done in any direction and involves running down the diagonal path which cuts across the park splitting the park essentially into two triangles OR simply completing a perimeter lap.
If interval training is what you are looking for you won't beat starting at the bottom of the most south west section of the park and working your way up to the most north east section near Queensway/Notting Hill Gate which includes a slow but increasing uphill section which is a little more challenging than first meets the eye.
Kensington Gardens 5k route
The full perimeter of Kensington gardens is approximately 4.3km providing you with an excellent opportunity to complete a lap and then finish with a 600-700m sprint finish.
This can be done in any direction however if completing anti-clockwise its worth noting that there is a small incline south-north running on the side of the park closest to Kensington Palace which runs from the High Street Kensington end all the way up to the Notting Hill gate end of the park.
Kensington Gardens 10k route
If you're looking for a slightly longer run and want to achieve distances of 10km+ in Kensington Gardens, our recommendation is to combine your run to include Hyde Park also.
If you really want to stay within Kensington Gardens then you could simply do two laps (either direction of your choice) and then add a spring finish 4.3km x 2 = 8.6km with a 1,400m sprint / faster finish. If you opt for combining Hyde Park & Kensington Gardens the perimeter of both parks is approximately 7km so completing a lap and then almost a lap of Kensington Gardens again ensuring you finish where you start out is the best option.
Due to its central location and through 100's and 1,000's of runners participating in running using Strava app you will find 100s of different route suggestions on the app which you could use as interactive guidelines.
Overall – the parks provide for a fabulous 10km run for anyone at any level and produce some opportunities to see some stunning wildlife & iconic London landmarks.
Running in Kensington Gardens at night
Running in Kensington Gardens at night is very safe and it's incredibly well lit.
The park is open 24/7 and is lit especially well on the main paths which are predominantly the perimeter paths. Not only will you be running alongside other runners for comfort all year round you can take comfort in knowing the the palace is protected 24/7 by Police and that Hyde Park police station is very close by making it doubly protected and heightening the safety feeling for all those who wish to enjoy the park and its amenities.
Kensington Gardens opening times
Good news for runners who enjoy midnight winter runs! Kensington Gardens is open 24/7 – 365 days per year.