My Place Soho boasts an impressive 4.4 star rating from 780+ reviews, proving why it is one of the best places in the area if you are looking for a casual cafe with great food.
One key thing that stands out are the reviews on the friendly and amazing service, which can be hard to come by especially in an area with such a fast paced undertone as central London. If you are looking for a solid meal and to be in the heart of it all, then My Place Soho is for you.
About My Place Soho
"My Place is an all-day coffee and dining spot in the heart of Soho frequented by the locals and loved by lifestyle bloggers and travellers. Known for brilliant coffee, breakfast & brunch done right, vibrant evenings and a well made espresso martini.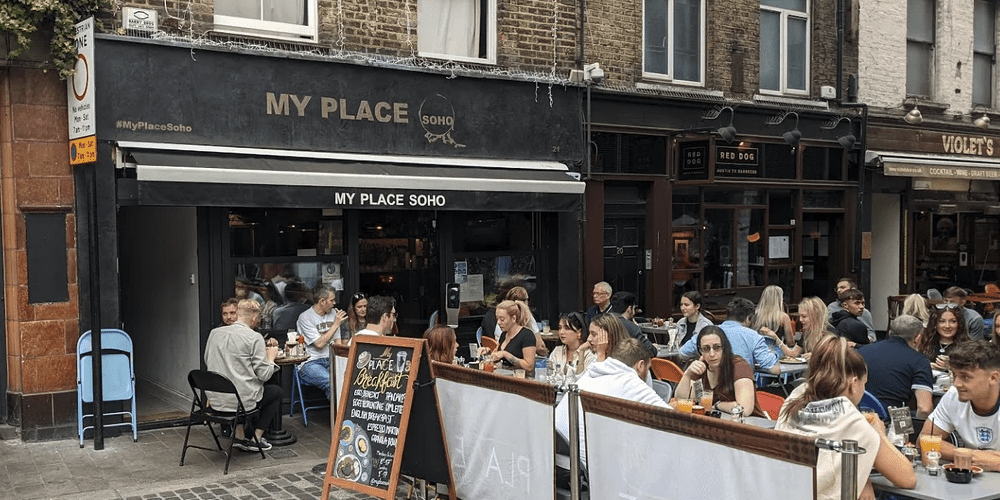 Whether you visit for an expert cup of coffee and pastries or a relaxed dinner with a pick from a well rounded, modern brassiere style menu and a glass of wine, My Place Soho hits all the right spots and makes people feel completely at home.
This is a place where the barista knows your name and remembers your favourite dish. To those who we are lucky to call regulars, we thank you for your ongoing support. To those who are yet to visit us, we look forward to welcoming you soon."
This is how the owners of My Place Soho describe their venue - and quite frankly, we think they've hit the nail on the head!
Location
My Place Soho is located right in the heart of the area on the always bustling Berwick street, one street over from Wardour street and our Soho studio location.
If you are unfamiliar with local street names, it is located within 5 minute walk of The Soho, the 5 star hotel. Right in the heart of Berwick street market. 
How to get there
From Tottenham Court Road station you are looking at roughly a 5 minute walk away through Soho square. If coming from Oxford Circus it is just under a 10 minute walk.
There are plenty of bike racks and parking stations near by along Broadwick street and, not too far away is Soho square where there is a large Santander bike parking hub as well as plenty of car parking spaces. 
Price range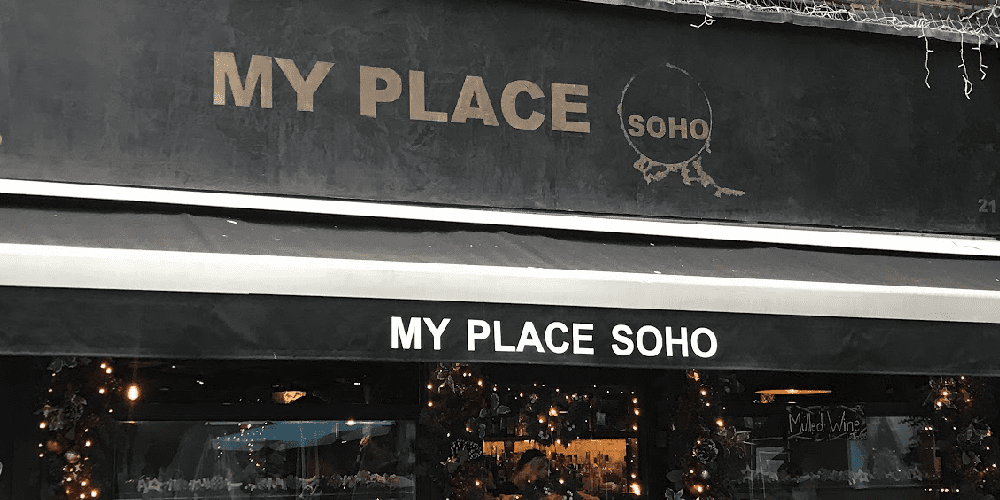 The pricing at My Place Soho is fairly standard for the area where you will pay the normal rate for a coffee when not buying from a large chain like Pret. A flat white will cost you £2.90 and an americano £2.60.
Their breakfast options are also typical for the area with their price range being between £9 - £12 depending on the option you go for.
Their sandwiches are on the higher price end in comparison to other locations, costing around £8 - £9 for a sandwich (but you won't be disappointed!) 
Specialist diets catered for
My Place do offer vegetarian options within their menu from breakfast through to their lunch options. They have a Goats cheese and beetroot salad. A sundried tomato and artichoke sandwich as well as their portobello mushroom burger. 
As far as an extensive range within the menu to cater for dietary requirements there isn't as much as other locations I have seen - but you'll find something delicious.
Best healthy snacks option
There are a couple of great healthy snack options here to choose from.
If you are looking for a healthy breakfast to start your day I would reccomend the Spinach and Avocado omelette. Not something you can take away but this would be a great option to have if you have had an early morning workout or are looking for a great protein and nutrient rich breakfast before work.
The next option I would recommend would be the smoked salmon salad. A great source of protein with the salmon and then a whole range of colours which is always a go to reccomendation for me, with beetroot, avocado, spinach and sweet potato. 
Best high protein option
The first and 'cleanest' high protein option is going to be, once again, the 3 egg omelette. A typical egg has 6-7g of protein in each so with 3 eggs in this omelette you are looking at around 20-25g of protein depending on the size of the egg.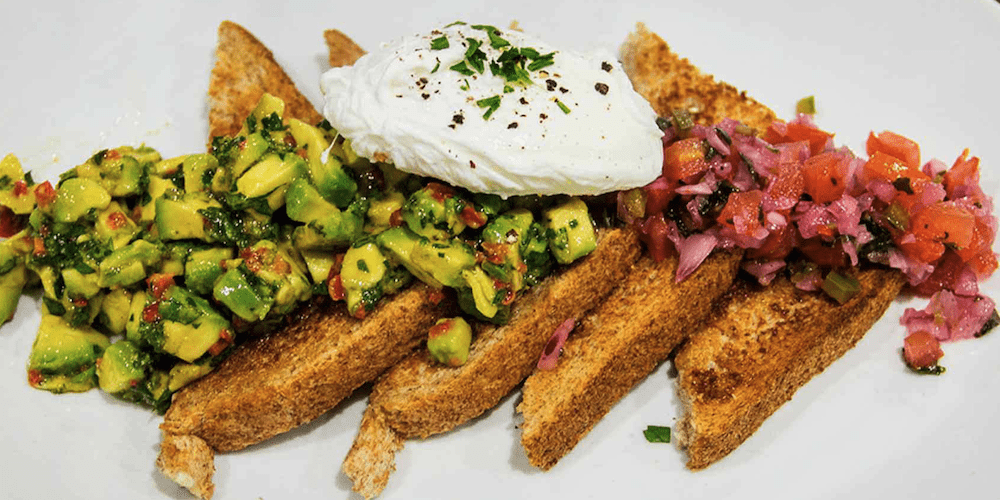 The avocado is going to provide a great source of healthy fats to compliment the protein as well as the spinach providing a small dose of protein but predominantly the key micronutrients, supplementing the macro nutrients of the fat and protein.
Best low-carb option
If you are looking for a low carb option, then once again the My Place three egg omelette is your go to choice.
All the other options on the menu are higher carb. For example, many options include bread whether that be through toast or the burger buns.
To make this option completely low carb you can simply ask for no sourdough toast which they allow.
Best veggie option
My place doesn't have a dedicated vegetarian section on their menu however they do have quite a few options that you can choose from, as long as you eat eggs.
You can choose from:
The now infamous spinach and avocado omelette
Eggs florentine
Grilled Goats cheese
Granola Breakfast bowl
Goats cheese and beetroot salad
Sundried Tomato and Artichoke Hearts sandwich
Portabello Mushroom Burger
Now if we get specific, if you are looking for a lean meal option then look at the goats cheese and beetroot salad or the omelette.
If you are looking for more calories in your meal then the portobello mushroom burger should be your choice.
Best vegan option
Unfortunately, MyPlace Soho doesn't seem to have many main meal vegan options, due to most meals having either cheese, yogurt or eggs in the recipe.
There are options in the 'To Share' section that are vegan friendly:
The Bruschetta
The Mezze Platter
Additional Info
If you are looking for a great place to stop by and really sample the heart of Soho and central london, watch the world go by and take in the hustle and bustle of the Soho locals then My Place Soho is the option for you - whether you want a hearty meal or just a coffee to yourself.
With the cobbled streets contrasting against the more modern glass buildings further down the road you get the best of both worlds that London has to offer.