With a Google review rating of 4.2 stars, it would be fair to call Make Mine something of a local gem! Reviewers frequently mention the generous portions, quick service, range of salads and sandwiches as well as highlighting it as a great option for a well priced breakfast.
About Make Mine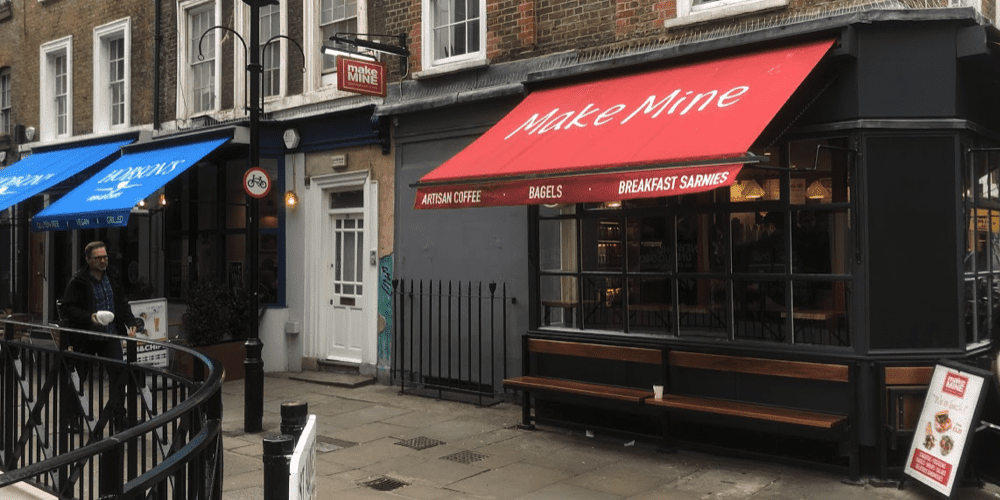 Any time you're looking for somewhere to grab a bite to eat, a good rule of thumb is to go where the locals go. By that metric, Make Mine is a great option in Soho. At peak times you'll find the place packed with builders and office workers grabbing a quick bite or a great coffee at a reasonable price.
It's an establishment refreshingly free of pretension- what you see is what you get in the best possible way. It's good, honest food, prepared quickly and served with a smile.
As well as a wide variety of grilled ciabatta and focaccia sandwiches and salads, as the name suggests, Make Mine lets you customise your order making it a fantastic option if you're following a particular diet or have specific macros to hit.
Everything is made fresh, right in front of you so you never need to worry about ending up with a stale sandwich or yesterday's lifeless salad!
Location
Make Mine is ideally located at the corner of Dean Street and St. Anne's Court. It's less than a minute's walk from our Soho studio and a little over 5 from our Fitzrovia branch making it an ideal spot to refuel post workout.
It's also just a two minute walk from Soho Square, so when the weather's nice you can take your order to go and enjoy it al fresco in the park. 
How to get there
The nearest tube station is Tottenham Court Road, which is less than half a mile away, so you'll be able to walk there in about 5 minutes. Both Covent Garden and Piccadilly Circus are half a mile away, it's a 10 minute walk from either station. The cafe is therefore easily accessible on the Northern, Central, Piccadilly and Bakerloo tube lines.
If you're travelling by bus, your nearest stop will be Oxford Street / Soho Street which is served by the 55, 73, 98, 390, N8, N25, N55, N73, N98, N207.
Price range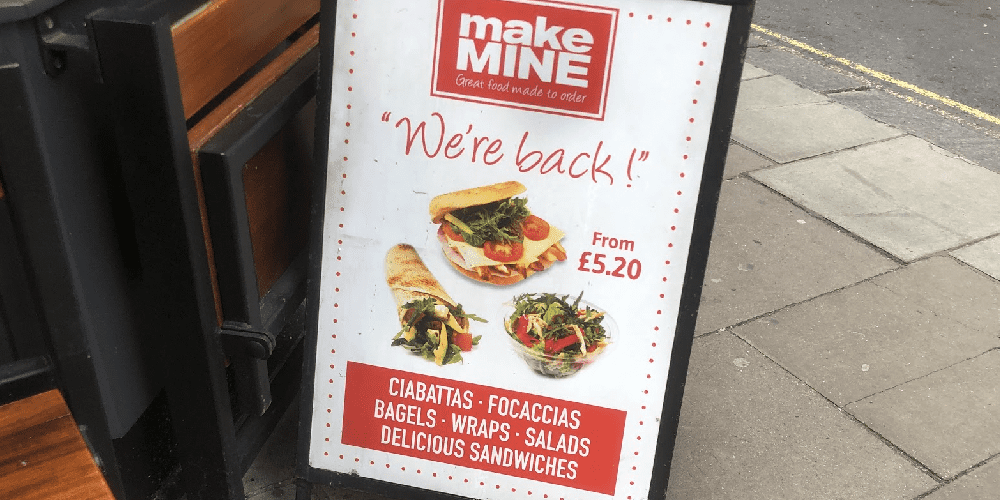 If you're looking for great value, you'd be hard pressed to find a better option in Soho. A large coffee is less than £2, breakfast sandwiches range from £2.95-£3.95 depending on how many fillings you opt for, salads, bagels and ciabattas are just over a fiver and bagels are £4.85.
It's a little bit more expensive if you eat in, but you're still unlikely to find a better deal in this part of London.
Specialist diets catered for
The customisable nature of Make Mine's menu makes this a fantastic option for anyone following a specialist diet. If you're going gluten free, you can opt for a salad. There's tonnes of vegetarian dishes, although the vegan menu is a little limited. However, they do offer a vegan falafel, hummus and tahini salad which could go toe to toe with any other vegan dish in the area.
Best high protein option
When it comes to protein heavy options, you're spoilt for choice! If you're watching your calories, opt for a salad. The Tuna Nicoise or Cajun Chicken are great options. If you want something a little more substantial, the Roast Beef sandwich on ciabatta, focaccia or a bagel is a great option for bulking season.
Best balanced macronutrient option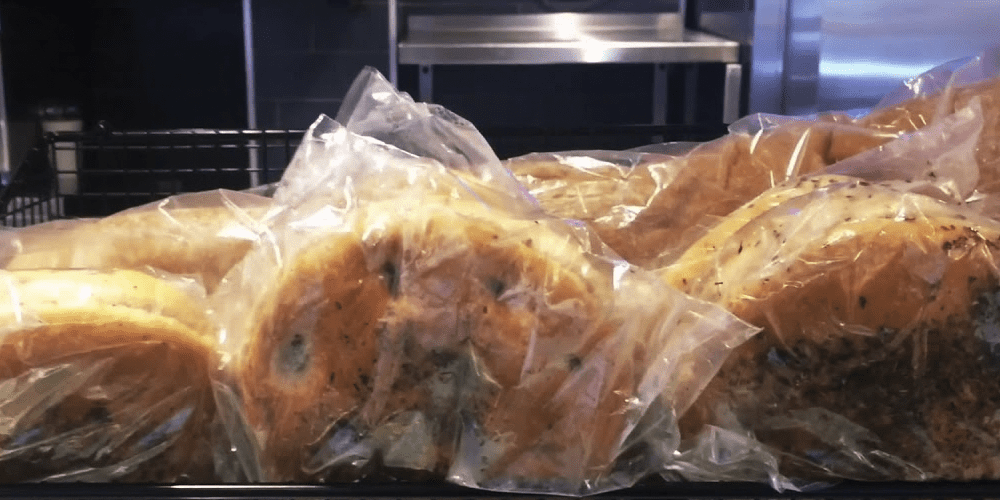 Our favourite balanced option is a DIY breakfast sandwich. A mix of granary bread, smoked salmon and scrambled eggs starts your day off with a great balance of complex carbs, healthy fats and protein.
For lunch, go for the Tuna Nicoise or Super Food, both of which pack a healthy balance of protein, carbs and fats alongside a few servings of veg.
Best low-carb option
If you're going low carb the salad menu leaves you spoiled for choice! As long as you opt for one of the options without croutons, such as the Tuna Nicoise, Club or Smokey Chicken, you'll be on to a winner.
Best veggie option
For a veggie breakfast, there's plenty of egg based options. For a higher protein meal, go for the Shakshuka sandwich (ideally on granary bread). The DIY porridge also allows you to add a serving of fruit and nuts for a well balanced breakfast to set you up for the day.
Best vegan option
If you're going off the menu, there's not a huge number of vegan options. The only option is the Ali & Levy salad (also available as a wrap), but luckily it's one of the highlights of the whole menu! With falafel, hummus, loads of veg and a tahini dressing, it's packed with nutrients, has a solid macronutrient profile and is absolutely delicious.
Additional Info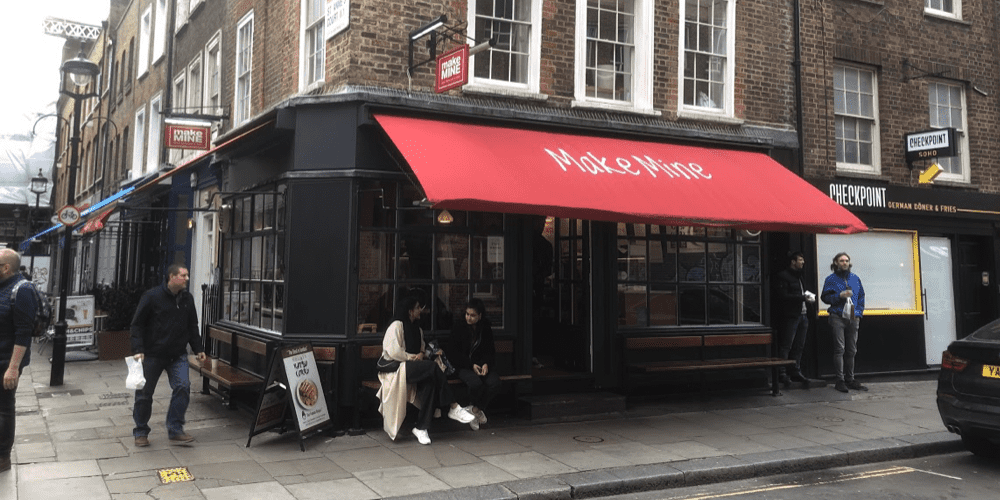 One thing that helps Make Mine stand out is the variety on offer. Sure, it's a fairly straight forward sandwich and salad shop, but there's a sense of creativity to the menu that piques your interest (anyone for a Seville bagel or Marrakech salad?). It's greatest strength is definitely it's combo of value and choice. The DIY element of its menu makes it a perfect option for anyone looking for a quick, macro friendly bite at a great price.