Based on the Joe & Juice reviews you'll find if you Google this popular Soho juice bar/eatery, it seems that they do pretty well with an impressive average score of 4.0. The positive reviews seem to be from people who need a rest from all the shopping and easily accessible toilet facilities.
The negative reviews mostly come from the loud music (which Joe and the Juice are known for) which can cause confusion and miscommunication when ordering. Stiil, not everyone enjoy's a quiet coffee (or juice) - so if you're looking for some energy to turbo-charge your day, this is a great choice.
About Joe & The Juice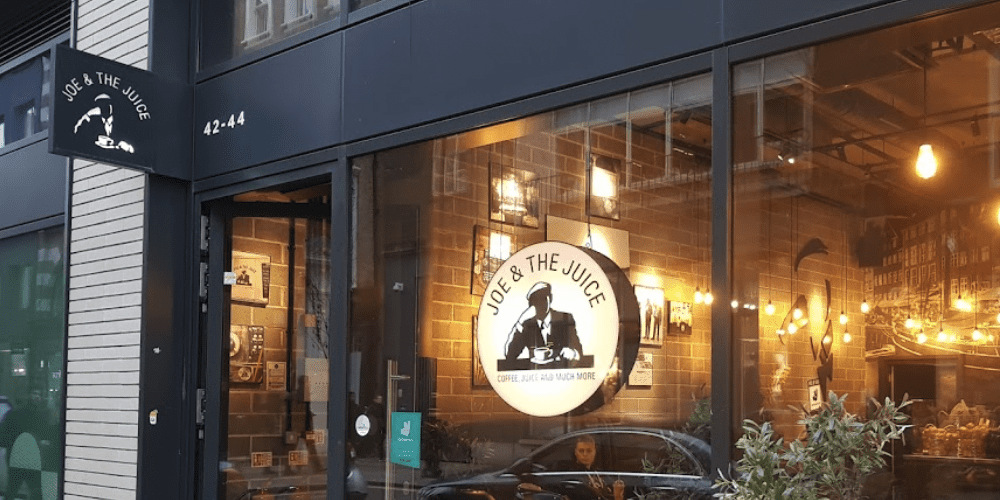 Joe and the Juice, like Pret, can be found on most corners throughout London and is a well known chain. As the music, menu items and decor are the same in every store it can be a comfortable place to visit - it will be the same standard in every one.
The menu is mostly made up of coffee, shakes and juices but also they have a number of delicious sandwich options.  
Despite now being found around the world, Joe & The Juice started in Copenhagen as a one man band. Founded as part of a clothing store. From here it has expanded massively with stores opening up in Norway, France, Singapore, South Korea, UK and the US. 
As they mostly deal with loud blenders and centrifuges all day they have music blaring to block these noises for customers but to also create something unique about the brand that is Joe & The Juice.   
Location
Soho and Fitzrovia are home to a number of Joe and the Juice cafes and can be found on the majority of corners. One of the bigger and more spacious cafes can be found just off Tottenham court road on Rathbone St. 
A second option if you are working closer to Soho is to check out the Joe and the juice that is located on 46 Dean St. This will be a busier and more lively store but is perfect for people watching. 
How to get there
As both locations are within a 5 min walk from Tottenham Court Road underground station this would be your best in terms of the tube. This station is serviced by both the Northern and Central lines. 
If you are arriving by Santander bike hire then you will find a bike station on the outside of Soho Square which should have plenty of spots to park and also hire again when you are ready to go home again.
Due to its central location off the main shopping streets you will find it easy to arrive from east or west by bus. A 3min walk away you will find a bus stop on Tottenham Court Road serviced by the number 55, 73, 98 and 390 buses.
Price range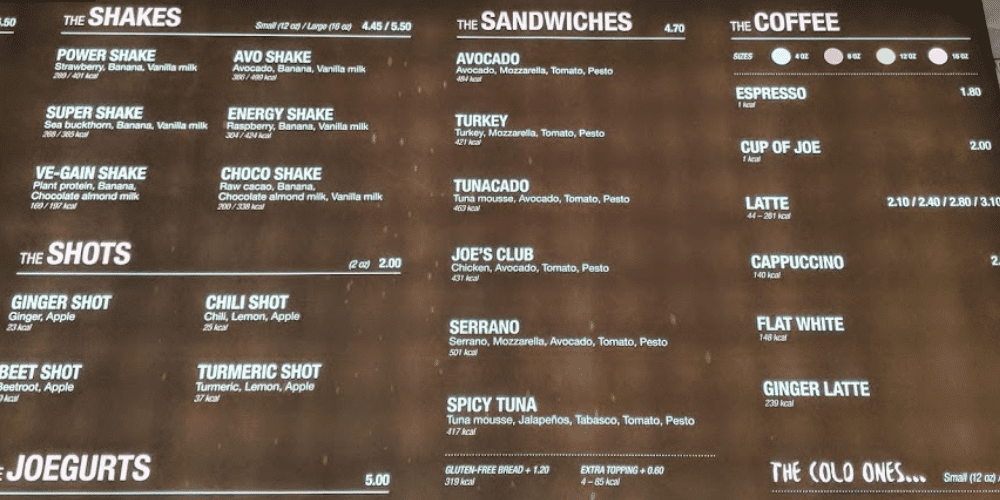 Coffee will range from £2.20 for an espresso to £2.90 for a Flat white or milky coffee. If you are after a sweet treat to go with your coffee then these can be found for an additional £2.60. 
They also have a small selection of breakfast bowls and sandwiches ranging from £5.60 to £7.00, depending what you are looking for. 
Specialist diets catered for
They have a limited range of food items and you will find one or two vegan/veggie options. However, they have a broad range of vegan shakes for vegans, gluten and dairy free.
Best healthy snacks options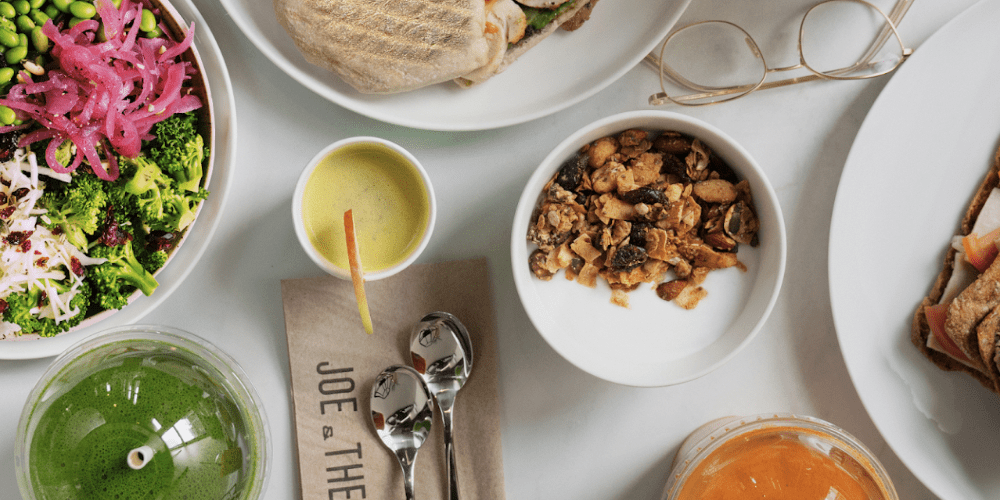 There are a few options for snacks here most will be higher on the sugar side but perfect for a post workout snack - if you have just come from the gym. Joe and the Juice have a number of branded snack products but check out their raw hazelnut bite or raw cacao bites for a quick on the go snack to pick up with your coffee. 
Best high-protein option/balanced macronutrient option
Most of the options here are based around fruit and vegetables in the form of juice but if you are looking at getting your 20-30g of protein per meal then have a look at the turkey sandwich at 420cal and 26g of protein can be a quick meal option if you are in a hurry.
Best low-carb option
In terms of low carb options there isn't much to choose from here as most of the items have a fruit base with the juices and shakes. However, some of their stores will have a green Tuna bowl salad which will be your best bet when it comes to a low carb option. Please be aware it may not be at every Joe and The Juice you go to at the moment. 
Best veggie/vegan option
A good vegan option here if you are looking for something that isn't a shake is they make a really good vegan sandwich with spinach, tomato, avocado and vegan pesto. Your other option would be to check out their vegan shake range. There are four different ones to try and will have something even for the most fussy of eaters.
Additional Info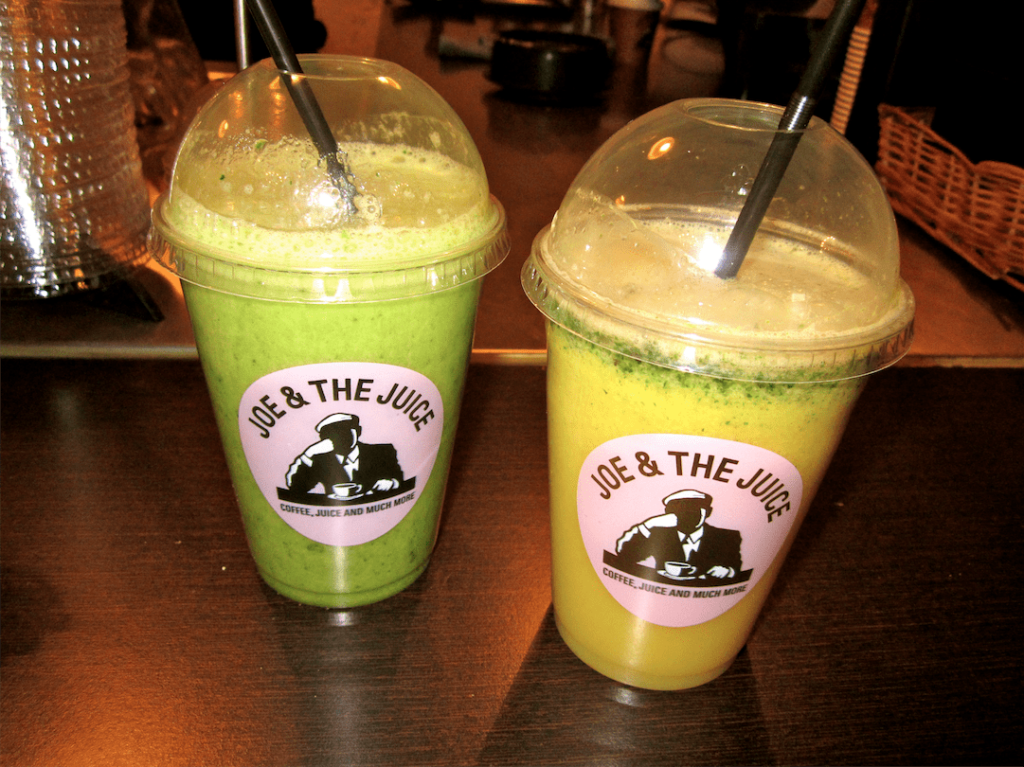 Joe and the Juice have a great loyalty app so if you are going to be a regular here then signing up will be a bonus. You can also order on the app before you arrive so there is less waiting around especially if you are in a hurry or it is during the lunch time rush.
They will also reward you with prizes and if you download the app and it once you will be rewarded with a free juice. The more you use it the better the rewards - can't say fairer than that!