Detox Kitchen has been a healthy staple deli in Soho for nearly 7 years now, providing nutritious, wholesome food using good quality, seasonal ingredients cooked from scratch daily in their kitchen.
Their 4.3 stars on Google is a testament to this with most reviews stating generous portion sizes, great selection and super friendly and knowledgeable staff regarding any dietary requirements.
About Detox Kitchen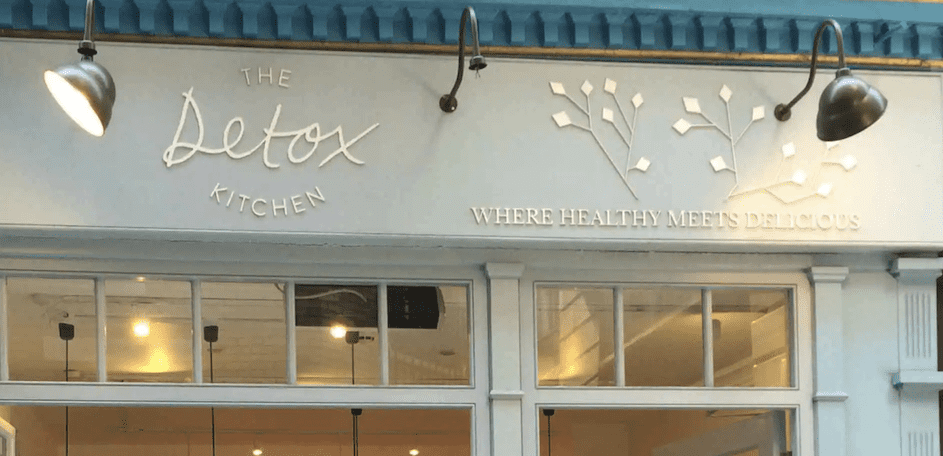 Detox Kitchen was first established in 2014, and since then has built up a long standing reputation of being a healthy and sustainable go to for health and fitness lovers in London.
80% of all their ingredients are from local UK suppliers, with full traceability, for optimum taste and nutrition. They pride themselves on being 100% dairy, wheat and refined sugar free and although they are predominantly plant based, there are meat and fish options as well.  
Everything is prepared within 24 hours of cooking so freshness is guaranteed and the pick 'n' mix style salads are just perfect for creating the pre or post workout meal for your individual wants and needs.
Location
Detox Kitchen has 2 delis in the Soho area, one on Mortimer Street (W1T 3JJ) and the other on Kingly Street next to Carnaby (W1B 5PJ) both within walking distance (approx 6-10mins) of our Soho and Fitzrovia Studios depending which direction you are coming from or heading back to.
They do both however have different opening hours so double check below before deciding which one to check out first.
Kingly street- Monday - Friday: 11:00am - 3:30pm, Saturday - Sunday : 12:00pm - 3:30pm
Mortimer Street: Monday - Friday: 09:30am - 3:30pm, Saturday: 11:00am - 3:30pm, Sunday: Closed
Be sure to double check these! We don't want to get in trouble if you turn up hungry and find a closed sign!
How to get there
Mortimer Street: Closest Tube station is Goodge street, and there are various bus stops on Wardour Street and Oxford circus nearby. However it is only an 8min walk from our Soho studio and a 7min walk from our Fitzrovia studio.
Kingly Street: Multiple bus stops along Conduit Street, with the one just outside Hamleys being the closest and 8 different bus routes using this stop (12, 88, 94, 159, 453, N3, N109, N136). This deli is also only a 5minute walk from our Soho studio and 11minutes from Fitness Lab Fitzrovia.
Either deli is likely to be on most routes home or to work from either our Soho or Fitzrovia studios.
Price range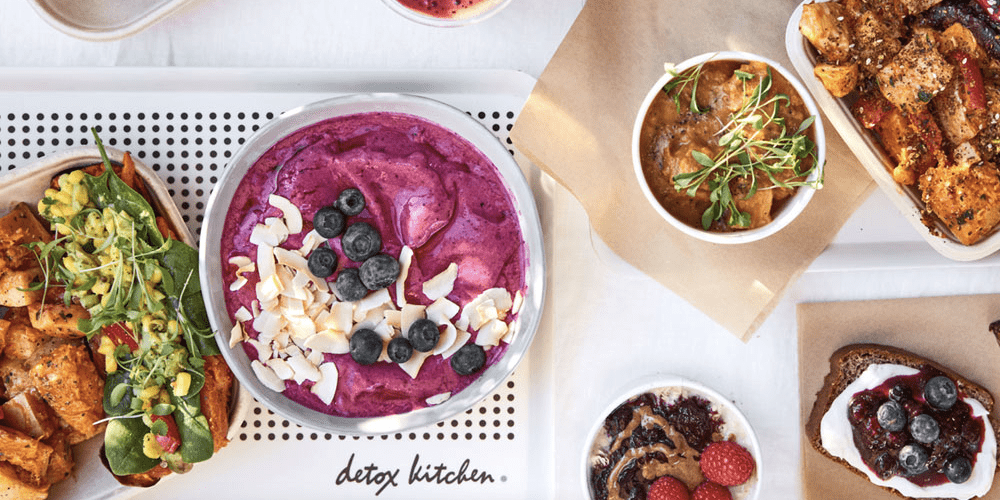 I would say prices at the Detox Kitchens delis are on the higher end when it comes to healthy food, however you are paying for quality and the portion sizes are generous.
Build your own salad: £7.90
-Chicken/ Prawns +£1
-Salmon +£2
-Avocado/Egg/Vegan Feta + 70p
Pre prepared salad bowls: £7.90- £9.90
Smoothies: £4.95 (small) /£6.25 (large)
Protein powder/ Rolled Oats/ Chia Seeds + 75p
Juices: £3.95 (small) /£5.25 (large)
Coffee- £2.20- £2.60
Again, these are subject to change - so make sure you check with Detox Kitchen directly.
Specialist diets catered for
Detox Kitchen prides itself on being 100% dairy, wheat and refined sugar free and although they are predominantly plant based, there are meat options available.
You can build your own salad, so you know exactly what is in it and all ingredients are to your liking.
Pre-prepared salad bowls all say whether they are Dairy Free, Gluten free, Vegan or Vegetarian both in store and on the online menu available on their website, but if its a make your own salad you are after, then speak to a member of staff who are all very knowledgeable and can give you some great suggestions on foods that work well together, but still fit with your plan and preferences.
Best healthy snacks option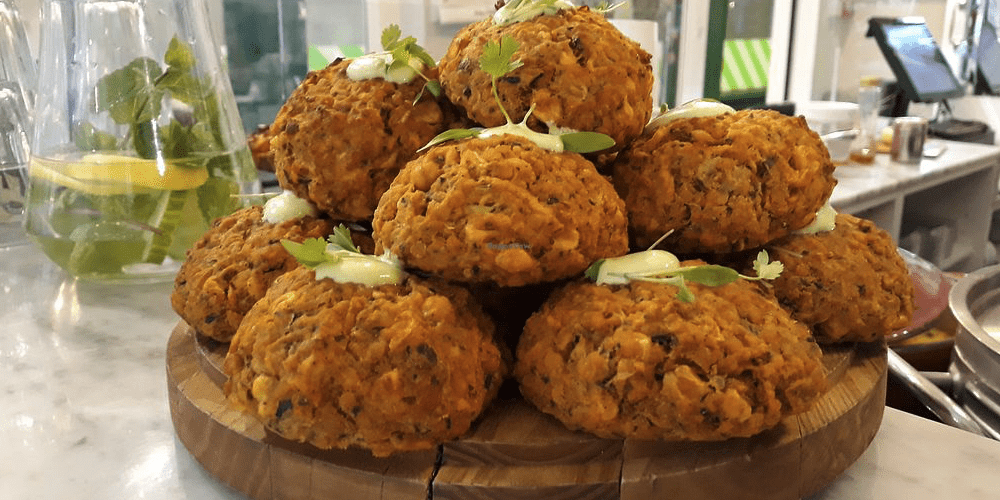 Detox Kitchen isn't known for its large snack selection or quick "put in your bag for later" options. However you will find popcorn, crackers, healthy peanut butter cups and vegetable crisps available in whichever deli you plan on heading to.
Best high protein option
If you're making your own salad, then adding in some chicken, eggs or salmon will give you that high protein you are looking for. However out of the pre made options the following would also be great choices:
Spill the Beans- Transport yourself to Mexico
Make Ends Meet- The Italian british one with Free range chicken
Tip of the Iceberg- Prawns in bed with with noodles and kimchi
Fish out of Water- Hawaiian Japanese fusion
The Detox Kitchen are pleased to also confirm that they have adopted the Better Chicken Commitment for 100% of the chicken in their entire UK supply chain and will meet all the standards or exceed it by 2026 at the latest.
Best balanced macronutrient option
If it's a well balanced meal you are looking for then you won't go far wrong with 'Best thing since sliced bread'- a big twist on the classic caesar salad or 'For Goodness Sake'- Italy meets Britain on a fresh summer's day. Both a great choice for those all important nutrients and macros but not overloading on the calories.
Best low-carb option
If it's low carbs that you are after then your best option is to make your own salad bowl without any rice, potato or noodles. Bases can be made up of lettuce or kale instead with higher protein options added such as chicken or salmon. Vegetables grown below ground are more starch based whereas vegetables grown above ground are more water based. So stick to veggies and salad bits grown above the ground for that low carb option.
Best veggie option
If it's veggie options you are after then you will not go far wrong with choosing any of the below:
Chasing Rainbows- Bit like a poke bowl
No strings Attached- Japanese style noodle bowl

Full of flavour and nutrients to satisfy those taste buds pre or post workout or on a rest day!

Best vegan option
Vegan is what Detox Kitchen does best. Plenty of options to choose from from the pre prepared salads including:
Chasing Rainbows- Bit like a poke bowl
Best Thing since sliced bread- a twist on the popular caesar salad
Cool as a cucumber - Zingy moroccan vibes
For goodness sake- where italy meets the british isles
No strings attached- Japanese style noodle bowl

And not to mention the multiple options you have if you were to make your own salad with all the goodness you know you love and enjoy.
Additional Info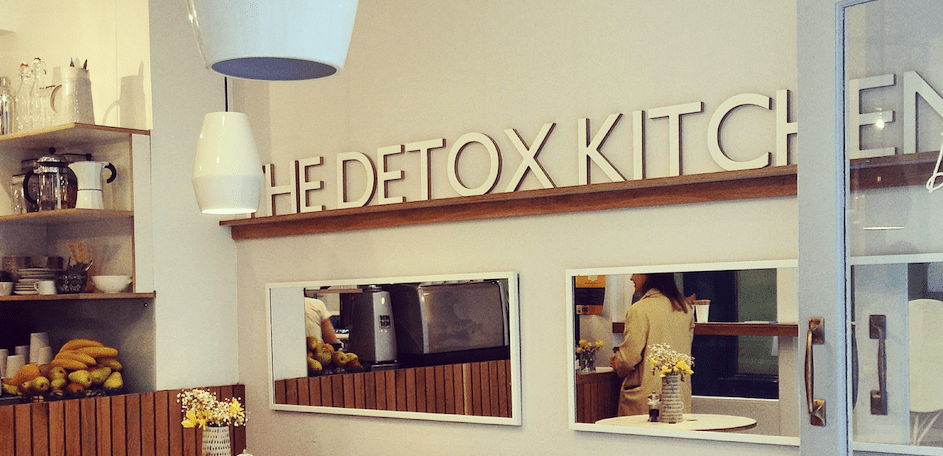 As well as providing incredibly tasting and nourishing food, Detox Kitchen also pride themselves on their sustainable packaging solutions. Their containers are made of Kraft paper, a natural and renewable source, and are fully recyclable, compostable and biodegradable. They also use 'If You Care sandwich bags', which are made from unbleached pulp from spruce trees, a natural and renewable source. They are compostable, recyclable and biodegradable. Always one step ahead when it comes to sustainability, eco friendly and all round feel good factors.
Not only do they have delis in Soho but if you love their food, they can also provide meal plans. From 3 day detoxes to full weekly meal plans. All the information about these can be found on their website, as well as a full FAQ section.
If you're a keen Instagrammer and love to see photos of the food provided plus the picturesque delis themselves then head over to their Instagram page @thedetoxkitchen for beautiful pictures of food and general niceness.