Bar Bruno is something of a local favourite in Soho - and its 4.5 star rating on Google attests to that!
Multiple reviews highlight its offering of simple food, done fantastically well. Diners also frequently mention the friendly staff and informal atmosphere. If you want a quick breakfast, lunch or snack that's full of taste and not pretension, this local Soho gem is the place for you.
No frills, just tasty food.
This review is part of our Best Places for Healthy Eating in Soho series - if this isn't the venue for you, keep exploring the list!
About Bar Bruno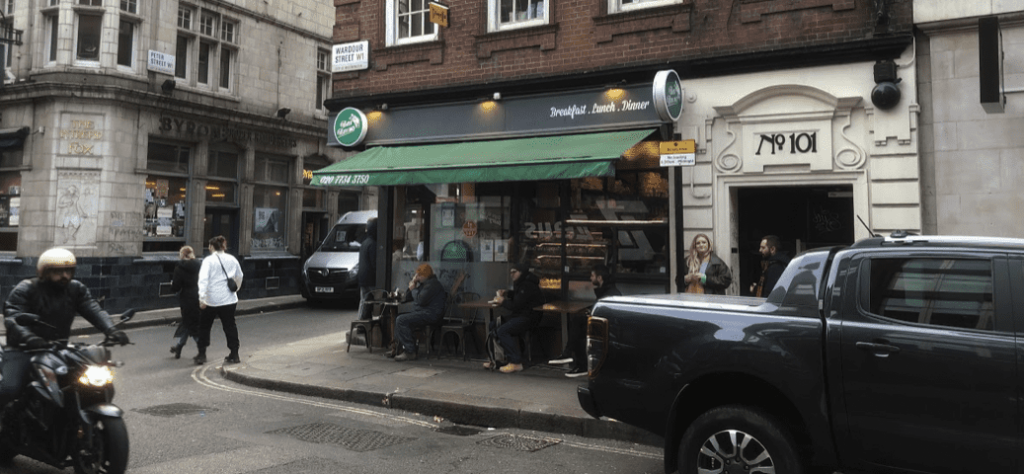 To call Bar Bruno a Soho institution would be something of an understatement. Established on Wardour Street in the 1960s, when cafes of its type were plentiful, it's now the last man standing from a bygone era. In the last 60 years, Soho has changed a lot and Bar Bruno has been there to see it all. There have been countless dining trends and gimmicky restaurants that have come and gone, while Bar Bruno's simplicity has been it's strength. Good, honest food done well at a reasonable price.
The cafe is very much a family affair, originally opened by the titular Bruno, it has since been overtaken by his nephew Frank who started working there in the 1970s. Frank is now working alongside his son to ensure the business continues to thrive in a turbulent environment.
Since taking over, Frank has advanced the menu with a taste of his native Naples, meaning the menu offers a number of delicious Italian dishes alongside traditional favourites.
Next time you pop in, make sure you take a moment to appreciate your surroundings, the cafe is one of the last remaining links to 'old' Soho and very much a part of London history.
Location
You can find Bar Bruno at 101 Wardour Street, at the corner of Wardour and Peter Street, right in the heart of Soho. It's a stone's throw from Shaftesbury Avenue and only a minute walk from the Sondheim theatre.
How to get there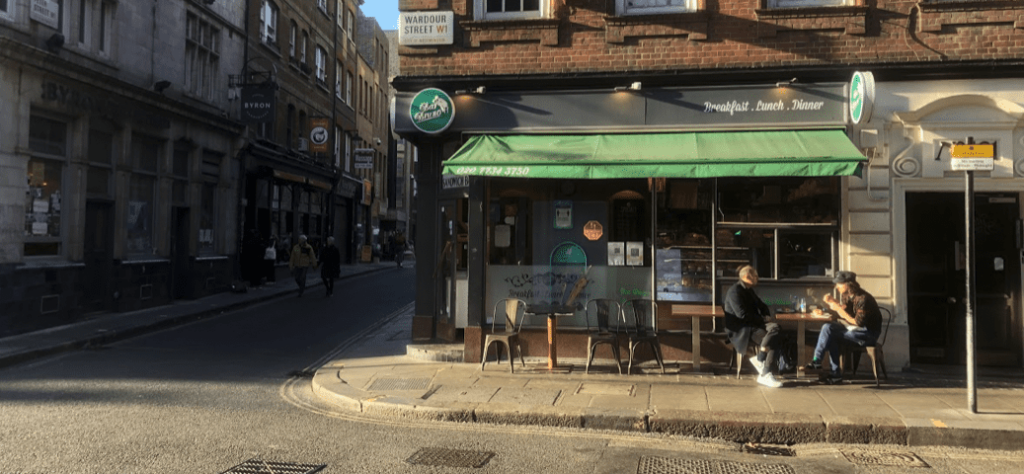 The nearest tube station is Leicester Square, which is less than half a mile away, so you'll be able to walk there in about 5 minutes. The next closest is Tottenham Court Road, which is again less than half a mile's walk. Oxford Circus station is also only a ten minute walk. The cafe is therefore easily accessible on the Northern, Central, Victoria, Piccadilly and Bakerloo tube lines.
If you're travelling by bus, your nearest stop will be Trocadero / Haymarket which is served by the 14, 19, 38, N19, N38.
Price range
Value for money is the name of the game at Bar Bruno!
You can get a hearty breakfast for under a tenner, omelettes starting from £7.50 and sandwiches for a fiver. If you want something more substantial, their evening menu ranges from £8 for a burger to £13.50 for a sirloin steak and chips - genuinely outstanding value if you're used to eating in Soho!
Specialist diets catered for
They offer a number of vegetarian options, which are handily marked on the menu, and they go above and beyond the usual token veggie offerings with the breakfast menu in particularly interesting reading for herbivores (meat free Protein Power Breakfast anyone?)
Vegan options are admittedly limited, although there are one or two pasta options which will fit.
While the menu doesn't specifically call out its gluten free dishes, there are a few options, including a number of delicious omelettes and jacket potatoes.
Best high protein option
If you're looking for a high protein meal you'll be spoiled for choice.
Our highlight of the breakfast menu is the Protein Power Breakfast, a classic combo of poached eggs, smashed avocado and toast and tomatoes. If you're keeping calories a little lower opt for an omelette, but if it's bulking season you can get a sirloin steak for less than 15 quid- there's not many places in Soho that can offer that!
Best balanced macronutrient option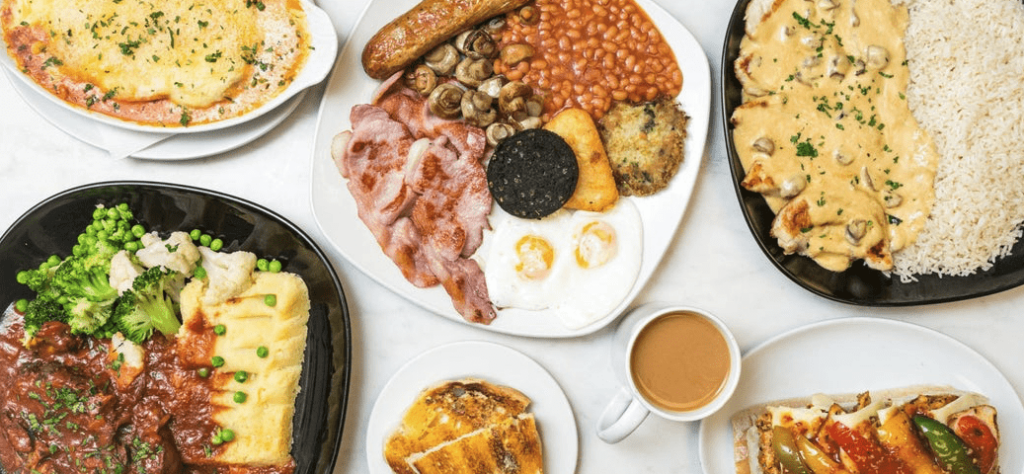 For a dish that ticks all the boxes, we would once again recommend the Protein Power Breakfast. From the eggs, you'll get a healthy serving of protein and they, along with the avocado will give you some healthy fats. Plus the tomatoes and avocados will tick off 2 of your 5 a day while the carbs in the toast will keep you going!
Best low-carb option
If you're keeping your carbs low, direct your attention to the range of omelettes. With 3 eggs going into each one, they pack an impressive 18g of protein and are served alongside a salad.
Best veggie option
There are plenty of veggie pasta and pizzas on offer in the evening, but the real value for herbivores is in Bar Bruno's breakfast offering. Eggs are the star of the show in a number of breakfast dishes.
We've mentioned the Protein Power Breakfast a couple of times already, but if you want something a little bit more substantial they offer a Vegetarian Full English that's hard to beat!
Best vegan option
Whether you're vegan or not, you can't go far wrong with a jacket potato and beans. Packed with protein and complex carbs, it's a delicious, nutritious option that'll leave you feeling full for a long time.
Additional Info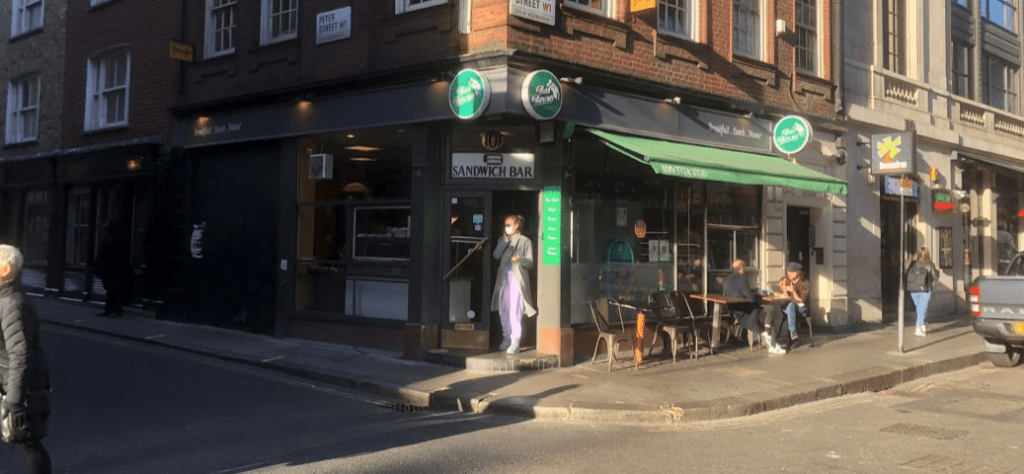 Ironically enough, Bar Bruno's typical London character is what makes it so unique. It might be the kind of place you walk right past and don't notice, but this unassuming cafe is a local landmark. Not many businesses in Soho have stuck around for the better part of a century. It's not your typical greasy spoon, as the owners and founders' Italian heritage gives the menu a twist that's authentic, not pretentious.
They've also got a Daily Specials board which is regularly updated with delicious new breakfast, lunch and dinner dishes. If you can't get away from the office, you can also find them on Deliveroo and Just Eat.