This post is part of our Best Parks for Running in London series – put together by our dedicated running clinic team.
Russell Square is one of those small hidden gems that is hard to find in central London. The park itself is only 600m to run around the perimeter. It isn't actually considered a park but the second largest Square in central London. Russell Square is conveniently located close to the University of London's main buildings and the popular British Museum.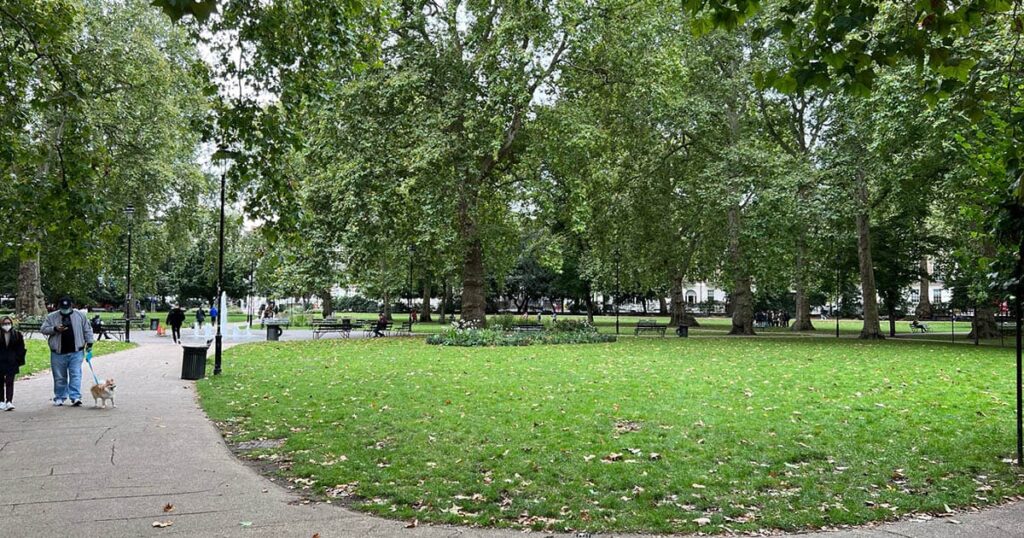 As it is a smaller space this is the perfect location to run laps or do some shorter, faster run intervals. It especially suits someone who wants to get a quick run in before you go meet friends, as the ever popular Soho has endless cafes, restaurants and pubs or in need of a much needed shopping break on Oxford st, a 10min walk away. If you want to grab something to eat/drink, post run.
Then there is a very good hidden Italian cafe located within Russell Square itself. You will see it on the northern corner as you run around. There are no toilet facilities at the park so the best bet is to ask at the cafe first if you need them.
If you would like something uniquely London then keep your eye out for a red telephone box which has been converted to a small cake shop selling tiramisu and other sweet treats. It is called Walkmisu and is open until 6pm most days.
Getting to Russell Square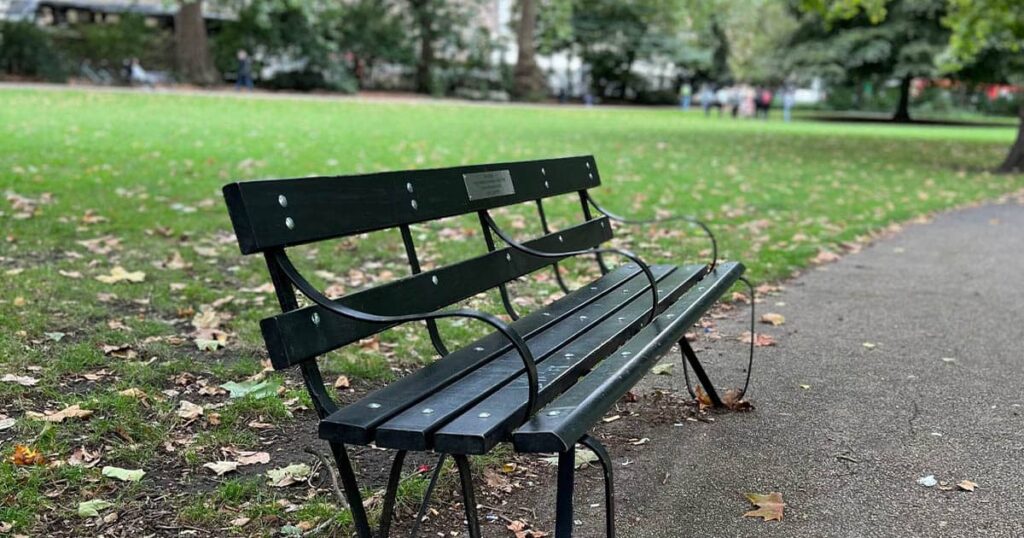 Russell Square is really well connected due to its proximity to central London. You will find a number of popular underground stations nearby. See below for more detail on the easiest routes.
Russell Square station (Piccadilly line) – As the name suggests it will get you to the park with the same name – 30sec walk from the station.
Holborn station – (Piccadilly and central line) – 10min walk away from Russell Square.
Goodge Street station – (Northern lIne) – 11min walk from the station to Russell Square
In terms of bus routes Russell Square isn't far from many of London's best attractions and main roads. So you have many bus stops and bus routes stopping close by. Below are all the major ones that get you within 5-10mins walk of the Square.
Russell Square has two Stops E and F both getting you right to the boundary of the square – Bus routes (14, 59, 68, 91, 168, 188, X68 and N91 – N provides night service providing 24 hours access via these routes)
Holborn station bus stop – Routes (8, 98, 521, N8, N25, N98, N207, N242 – N provides night service providing 24 hours access via these routes), 10min walk away.
Goodge street bus stop – Routes (24, 29, 73, 390, N5, N20, N29, N73, N253, N279 N provide night service providing 24 hours access via these routes), 11min walk away.
In terms of Santander bicycle docking stations, there isn't any right on the edge of the park but they are dotted 5 to 10mins walk away so you will never have a problem finding a convenient location to dock your bicycle. Download the santander app to find the latest stations and which ones have free space to dock a bicycle.
Runs at Russell Square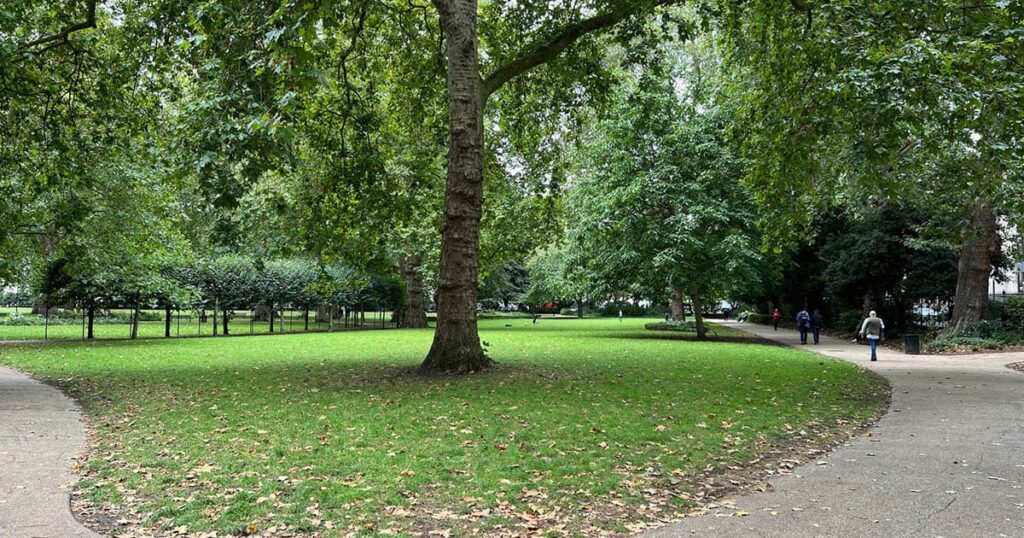 Due to the nature of this park it is perfect for completing different variations of interval training from longer intervals of 600m down to 100 or 200m. The wider paths make it easy to avoid other people as you go speeding past. You will find a couple of grassy patches inside the larger loop that is perfect for a warm up or cooldown/stretching. See below for some different options and distances for each.
Russell Square 600m loops
By far the easiest to follow here at Russell Square, there is a looped concrete path that runs the perimeter of the park. You can start at any point and as long as you can remember where you started you will know you have completed 600m each time you pass by it.
To get in a longer run just keep running the loop until you get to your desired distance. Eight loops of the park will give you a nice 4.8/5km run. This is especially useful if you are trying to run a fast 5km time as you will run uninterrupted the whole time.
A second option is to run intervals of 600m. I.e. as fast as you can for one loop, rest for the desired time and repeat. This is also excellent if you are training to run a faster 5km and want to push yourself.
Russell Square additional options for runners
Other options and distances for you to try here is that the park has two paths that cut the circular park into four even sections. By taking one of these that split the park down the middle, running and returning to the outer loop on the opposite side of the park and back to where you started can give you a nice 400m run loop.
If you are wanting to do shorter sprints of 200m you will do the same option as the 400m above but when you get to the centre of the park you will take the first turn (90 degs) back to the outside loop and return to your starting location instead of going straight ahead.
If you do not have a sports watch that records your distance and time then combine a 600m outer loop with the inner 400m loop above to get 1km options.
Running in Russell Square at night/opening times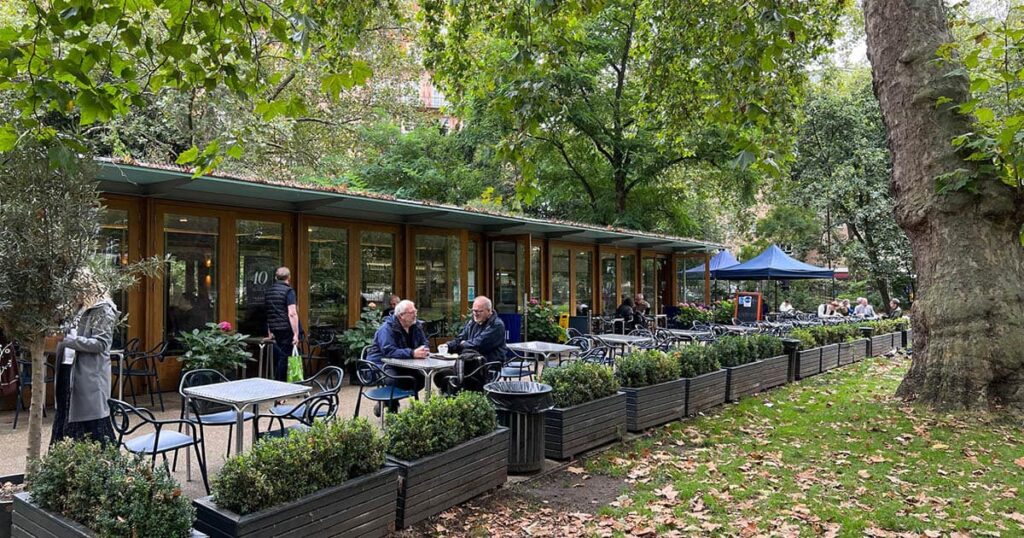 Russell Square is open 24/7 365 days of the year. This is a pretty well lit park overall with lighting dotted throughout plus if you are sticking to the outside then you also have street lamp posts from the street shining through. Russell Square is also quite a popular location so there will always be people around and is especially popular with early morning or afternoon dog walkers.
Does Russell Square have an organised Parkrun?
There is no organised Parkrun at Russell Square. However, other parks nearby hold their own runs if you are looking for a race or organised event.