This post is part of our Best Parks for Running in London series - put together by our dedicated running clinic team.
Nestled in the lively borough of Wandsworth, Battersea Park boasts a melting pot of beautiful sights and bustling crowds.
Boasting stunning views from the bridge and tranquil spots of sanctuary like the Peace Pergola, this is one hotspot in London you don't want to miss out on.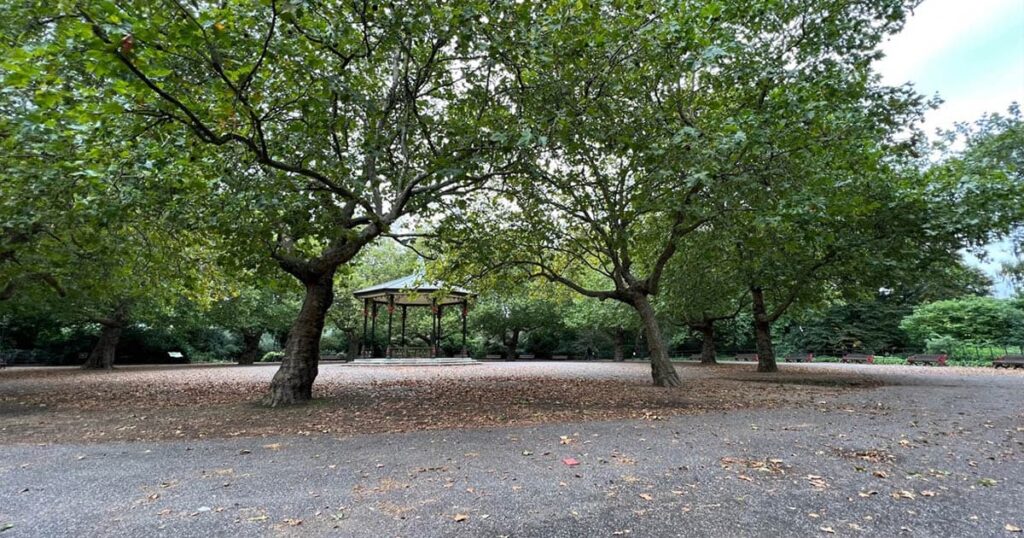 To top it all off, if you're lucky enough to be both a South-Westerner and a runner, you're in luck: Battersea Park is widely considered to be one of the epicentres of endurance running. With its flat, well-lit, and traffic-free loop, you'll be hard pressed to find a more energetic park on a Tuesday night, with groups of athletes from all walks of life thundering through the lush vegetation.
With that in mind, our running clinic team has put together a guide detailing the ins and outs of one of London's most beautiful spots.
Getting to Battersea Park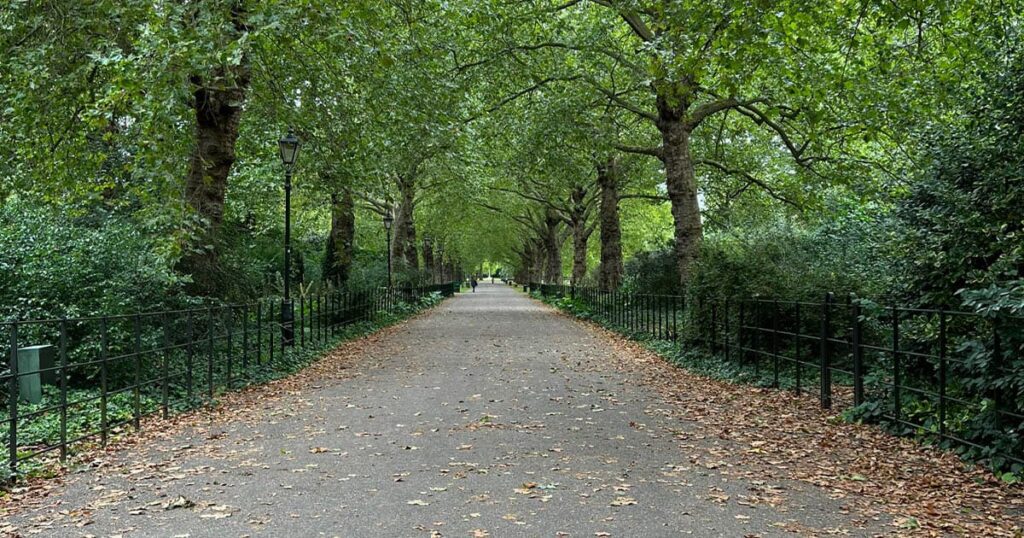 Battersea Park isn't just a pretty face: its proximity to innumerable bus routes make it an easy outing no matter where you're based in London. The 137, 344, 436, 44, 452 and 49 all stop right by the park, so you're welcome to hop on a bus and find yourself in paradise within the hour. The park is situated about ten minutes from the tube via Battersea Power Station, and a few minutes' walk from Queenstown Road train station.
Being based in Wandsworth means the park is well-connected, yet not too busy or overwhelming - the perfect pitstop away from London mania.
About Battersea Park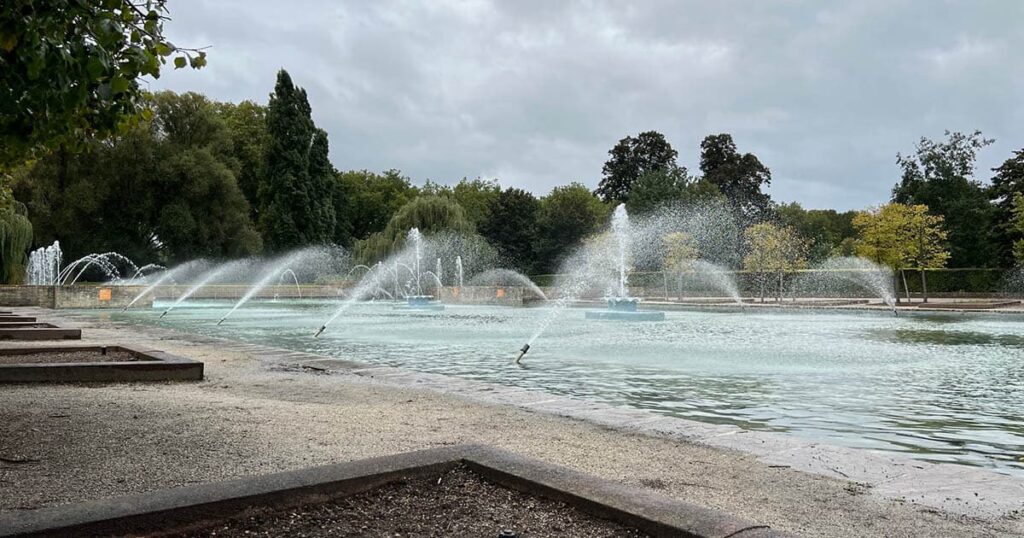 A 200-acre green space, Battersea Park was constructed in the nineteenth century but is still known to this day as the big city's peaceful oasis.
The park is home to a small children's zoo, a boating lake, a bandstand, and even recreational minigolf and climbing for the more adventurous visitor.  Whether you fancy a leisurely stroll, upping your running credentials or engaging in outdoor adventures, Battersea Park has got you covered:you can even rent out a bike to ride through the paths, or better yet, a boat to traverse its beautiful lake.
Why Battersea Park is a good choice for runners
Wherever you start your running route from, you have choice aplenty: the park's loop extends to about 3.2km, and the perimeter of the park in total is around 4km. Taking the Strava route would put you right at the gate near Queens Circus close to Battersea Park station; take your preferred direction and follow the Carriage Drive around the park for a simple, easy-to-follow loop.
This is another great thing about the park; it's safe for newbies, as the path allows you to find your way back with ease.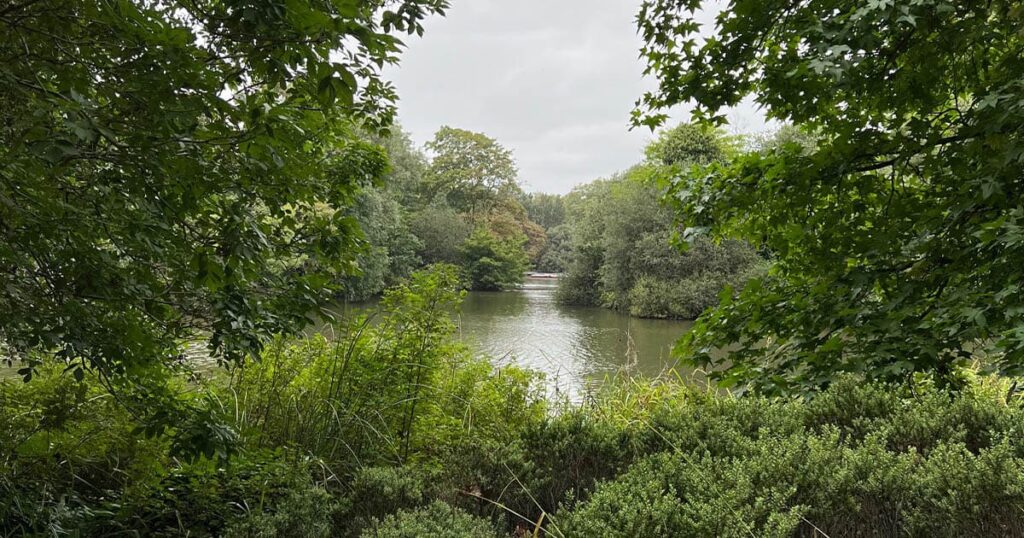 Coming in via Prince Wales Drive gives you the perfect 'in' to start your loop. Heading over towards the Bandstand means you get a nice view of the leafy greenery as well as a little bit of variety in the way the land slopes.
Battersea Park overall is pretty flat, which makes it ideal to work on your endurance whilst drinking in some picturesque sights. If you fancy a bit more of a challenge in that regard, the grassy areas and path going towards the Bandstand might be just the ticket.
Given the length of the park's loop, it's easy to calculate a 5 or 10k training session. Start off our route right at the Peace Pergola, then head down towards the Albert Bridge before segueing into a nice, steady loop.
For longer routes, it's possible to just double up on the laps - an easy thing to do when you have the Thames bankside to take in on a sunny day. For less forgivable weather conditions, the hard, flat path makes running feel much more secure.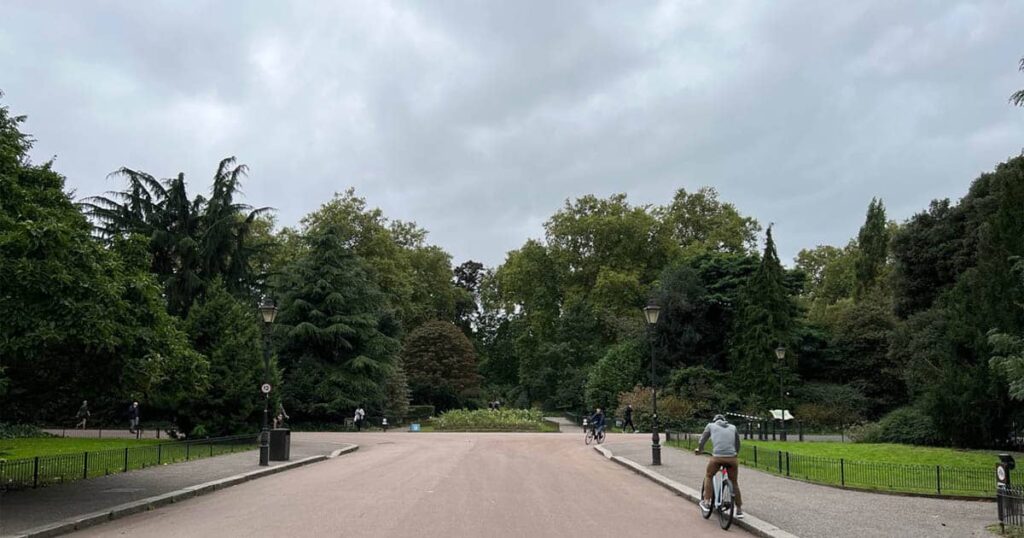 Of course, it'd be remiss not to mention the park's tracks and workout facilities, including an outside gym if you fancy incorporating some bodyweight training into your session. What's great about these is their location: perfectly nestled along the loop path, which makes them highly accessible and convenient if you just want to pop in and have a look on your run.
For those of you wanting more variation in your terrain, there's a nice little hill by the tennis courts if sprint training is more your thing; similarly, the trail section is a nice opportunity to vary the way you train.
What's particularly unique about this park is the way it caters to the newbie. If you feel intimidated by the prospect of tying up your laces and flying solo, Battersea has you covered. In addition to its excellent facilities - including an 8-lane synthetic track - the park offers numerous clubs, such as Serpentine Running Group, which adds a level of community in what is perceived to typically be a very solo kind of sport.
The timetable for these clubs are varied, giving people the opportunity to run late, early, or to squeeze a session in their lunch breaks. Pretty ideal, for both body and mind.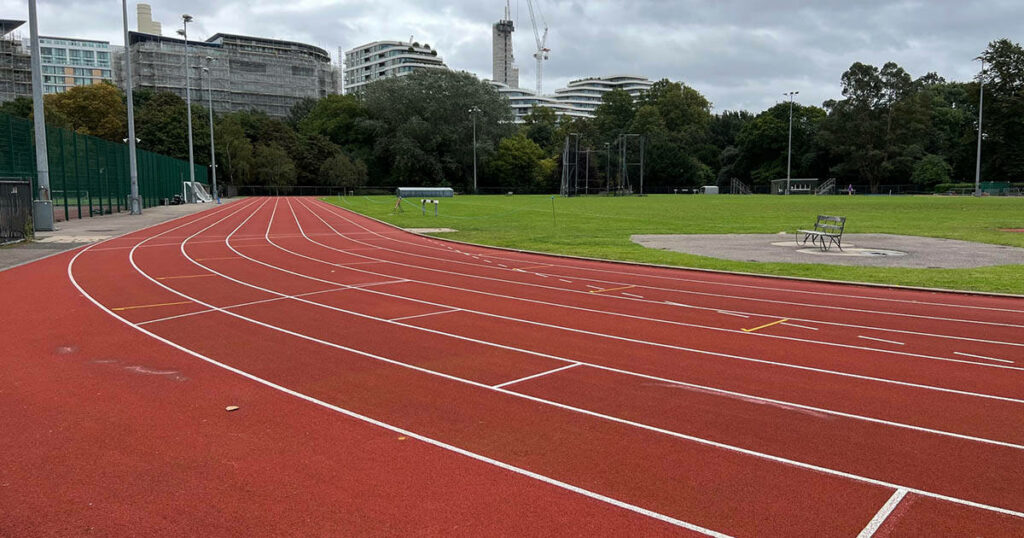 Battersea Park is well-lit and tends to err on the busier side even when late due to its attractive feature for runners. It is, in short, a safe, secure, and motivating area to help hone one's running skills without fear of being out too late on your own.
It's worth noting that the busier bus stops tend to be by the Albert Gate entrance - might be good taking that route to and from your run if you are staying out a bit later. Having said this, the park is open from eight in the morning up until dusk, which means there's no risk of being out at an uncomfortable hour in any case.
The park has plenty of opportunities for you to challenge yourself and put your running skills to the test. With a variety of 5 and 10k races organised by RunThrough throughout the year, there's no shortage of chances to participate in runs with friends or going solo.
Does Battersea Park have an Organised Parkrun?
No, like the majority of other major London parks there's no official Parkrun. However, there are plenty of organised runs in and around the park, including their famous 'Chase the Moon' and 'Chase the Sun' events - as well as marathons, half-marathons, 5 & 10ks, and some great fun runs.