Lavelle has pretty good reviews online with an overall rating on Google as 4.2. Most of the positive reviews talk about how good the coffee is and the selection of food items - from brunch food to cakes and pastries.
About Lavelle Bike & Bean
Like the name suggests Lavelle is both a coffee shop upstairs and a bike shop downstairs. They have aligned themselves as a health and wellness store selling products and food that is good for you - as well as the planet - with all the food packaging compostable.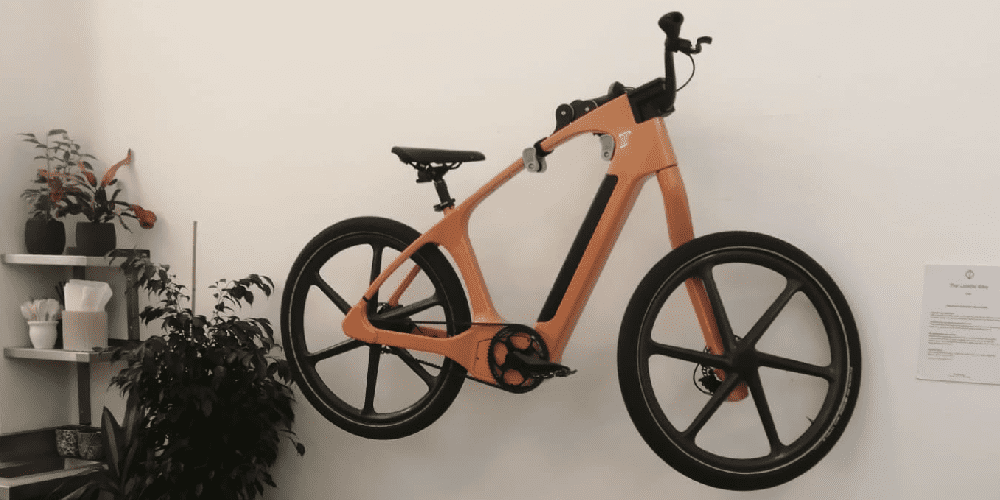 Lavelle caters to a wide range of eating styles from vegan friendly and low carb/keto. The coffee and tea suppliers are particularly focused on being ethically responsible and maintaining the quality of the product, for this reason they deal directly with the coffee producers and their mission is building long term relationships with both customers and coffee farmers.
Their milk is sustainably sourced by a supplier in the Somerset Chew Valley and produced by Guernsey cows which follow a strict "free range" lifestyle. The single sourced smoked salmon is freshly produced in London and delivered directly from the producer every morning.
They also have a good loyalty scheme. For every 10 coffees that you order and scan the barcode (which can be stored on Apple or Google Pay) you will receive a free breakfast deal (coffee and pastry). 
They are open 8am until 530pm Monday to Saturday
Location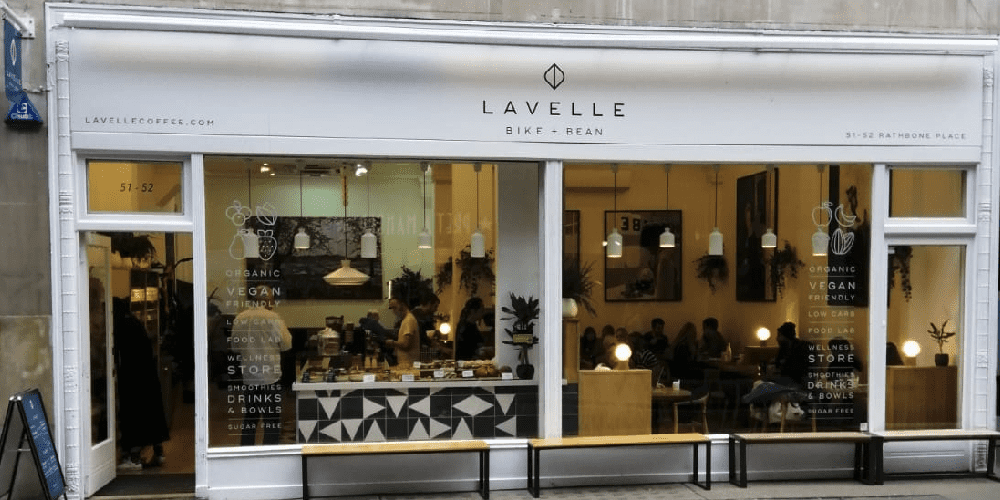 Lavelle only has one store but they are looking at expanding in the future. If you are within walking distance then Lavelle Bike and Bean can be found at 51-52 Rathbone St, which is just north of Soho Square and close to the shopping streets of Oxford St. 
How to get there
If you are coming from the underground then you have a couple of options for stops to get off at. The first being Tottenham Court Road station that services the Central and Northern lines. The second option would be Oxford Circus station which also services the central line and the Victoria and Bakerloo lines. 
If you are arriving by Santander bike hire then you will find a bike station on the outside of Soho Square which should have plenty of spots to park and also hire again when you are ready to go home again.
Due to its central location off the main shopping streets you will find it easy to arrive from east or west by bus. A 3min walk away you will find a bus stop on Tottenham Court Road serviced by the number 55, 73, 98 and 390 buses. 
Price range
Depending on your coffee choice it will range from £2.50 for an espresso up to £3.50 for the larger milk based coffees. If you are after a light snack or pastry these are all around £2 to £4 and include croissants and an ever-changing variety of cakes and muffins. 
Breakfast would consist of a smoothie or breakfast pots to have in or takeaway £3.50-£4.50
They also have a lovely looking menu for a more substantial meal like brunch or lunch items for between £5.50 for a sandwich or a salad for £8.
Their menu is ever changing and depends on what comes in fresh through the door so if you are looking for something specific then please check their menu beforehand but they do have a wide range of items for everyone.
Specialist diets catered for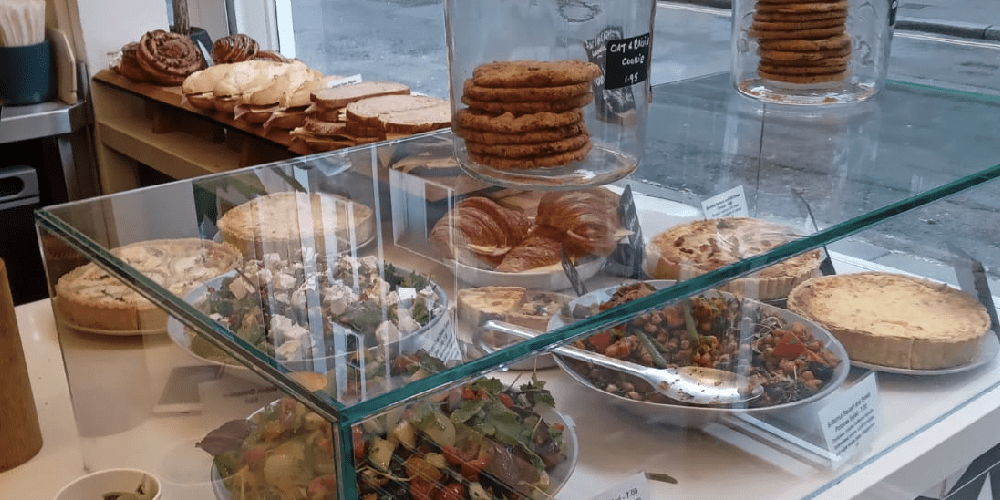 Lavelle have a wide range of items and cater for vegetarian or vegan including oat, coconut and hazelnut milk for the non dairy alternatives. They also supply a wide range of kero or low carb options for people who are looking at good options when they are limiting carbs in their diets.
Best healthy snacks option
They sometimes have a small pot of protein balls that would make a perfect snack for after the gym or between meals. They don't seem to always have these as they sell out fast but do keep an eye out when you are in or ask a staff member
Best high protein option
For a higher protein meal then their brunch menu will be your best bet. Try the Bacon, 2 poached eggs with avocado on sourdough will make sure you are hitting that high protein (20-30g) that we all need for proper recovery and to keep us full throughout the day.
Best balanced macronutrient option
Have a look at their brunch menu and you will have plenty of options here. They have really thought about the food in their new brunch menu. The best bet for a wholesome and balanced macronutrient rich meal would be the smoked salmon, poached eggs x 2, avocado and pickled fennel salad on sourdough will hit the macros and refuel after a hard workout or if you are looking at something to sustain you for the rest of the day
Best low-carb option
Lavelle have a number of low carb options but one of the best would be the Tenderstem Broccoli, Caramelised baby carrots, Roasted mushrooms, Red Beans Salad. You then add the protein of your choice i.e. salmon or chicken depending what you like
Best veggie option
One of the best veggie options on the menu would be the Crunchy chickpeas, Roasted Butternut Squash, Sweet Potatoes & Caramelised Onion Salad with Boiled eggs and aioli. For £8 this is a good way to get in at least a couple of servings of your 5 + a day.
Best vegan option
If you are vegan and here for breakfast then your best bet would be to try one of the breakfast pot options. One of my personal favorites would be the magic Chia. This is overnight chia seeds soaked in coconut milk with mango, raisins and dates topped with berry açai and fresh tropical fruits. Add an Oat flat white and you have the perfect start to the day.
Additional Info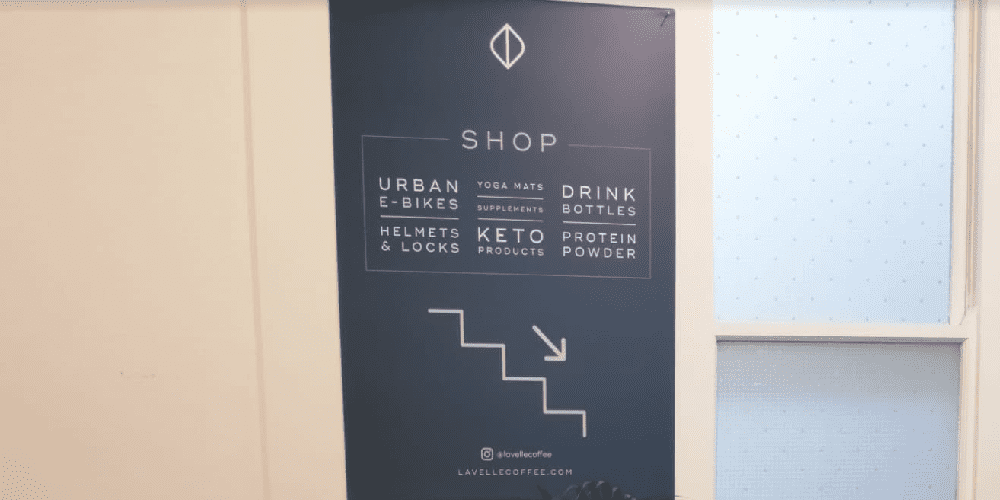 The best part about Lavelle if you are a regular to Lavelle is that they have an excellent rewards system in place. You download the app and save it to your Google/Apple Pay and for every 10 coffees you purchase they will reward you with a breakfast deal. 
They also have excellent Wifi so if you ever need to get a bit of work done while you are here, you can't go wrong!