Eat Activ has a problem. A big one. It appears to have one, huge, glaring issue as per their Google Reviews: that it's a tragedy that doesn't deliver its delicious goods nationwide.
Given the scrumptious standard set by this cosy little Soho eatery, for many this appears to be a crying shame.
Yet it also speaks to the high bar raised by Eat Activ: fresh, healthy meals at a reasonable price can be somewhat of a unicorn in the city of London, so it makes sense reviewers would be clamouring for more after experiencing what they have to offer. With the average review regaling 4.8 stars, it's no wonder that Eat Activ has carved out such an excellent reputation amongst big-name competitors.
About Eat Activ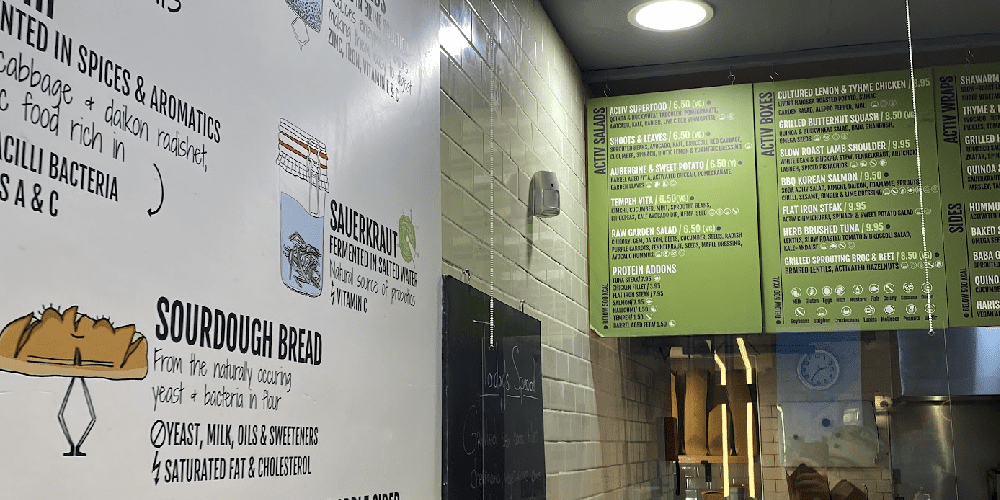 Being part of a bustling metropolis like London certainly has its major perks, but easy access to fresh, on-the-go meals probably isn't one of them. Eat Activ aims to challenge this, offering street-stragglers sanctuary and a bite to eat in the heart of Noel Street - without the excessive price tag or greasy take out boxes. Healthy food need not be inaccessible nor boring, and the owners at Eat Activ have strived - and succeeded - in creating an establishment which espouses this philosophy.
Its interiors are cosy yet vibrant; fully incorporating their ethos and brand!
Location
Soho's Eat Activ is nestled amidst the hubbub of London at 26 Noel Street, though you can find their other locations in Brewer Street and Shoreditch.
Naturally, this makes it a vessel for trendy, healthy eats suited to the busy city dweller. It's an easy 5-minute walk from Oxford Circus and Piccadilly tube stations, with a whole multitude of bus stations located nearby.
If you fancy combining a healthy pitstop with some Central London shopping, you're in the right place: Oxford Street is a stone's throw away from Eat Activ Soho.
How to get there
Oxford Circus and Piccadilly are two tube stations just minutes away, plus with the added bonus of having a whole host of bus routes at your disposal - including Wardour Street station, hosting the 55 and 98 - you'll be hard-pressed to find an eatery so well-located.
A Santander Cycle station is a few minutes away, too, for all of you who traverse the city by bike.
Price range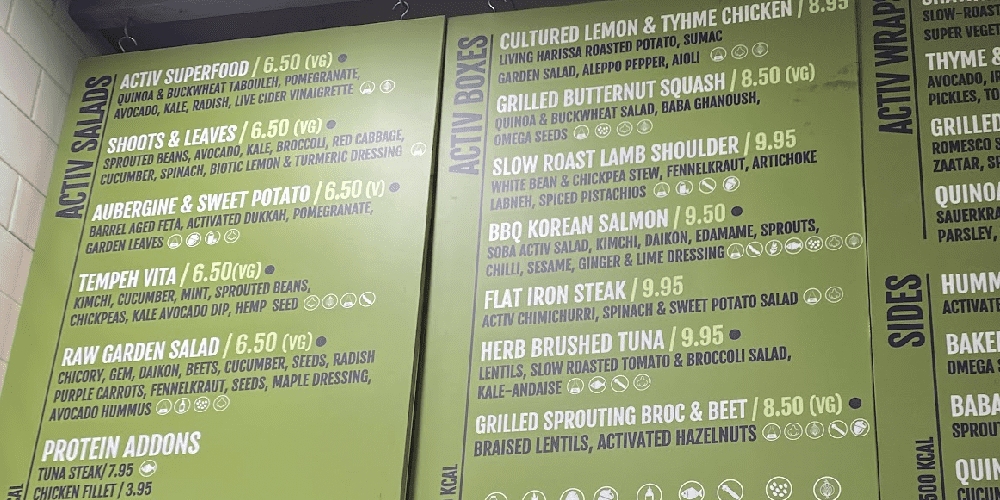 Sides, snacks and juices can range from £3.95 to £4.50, though the activated nuts section might have you spending a bit more, coming in at £6.95.
Wraps and salads tend to be in the £6-7 range - an affordable label for anyone looking to watch their wellbeing whilst grabbing a bite to eat.
If you're feeling somewhat more indulgent, their Activ Boxes - of which there is a huge variety - tend to be around £9-12.95. You get your money's worth, either way - a tuna steak Activ Box might be just the ticket for someone looking to increase their protein intake, for example.
Specialist diets catered for
Thankfully, if you have any dietary requirements, you need look no further than Eat Activ; their menu has a wide range of catering for plant-based eaters, as well as those who seek out dairy-free or gluten-free dishes.
Best healthy snacks option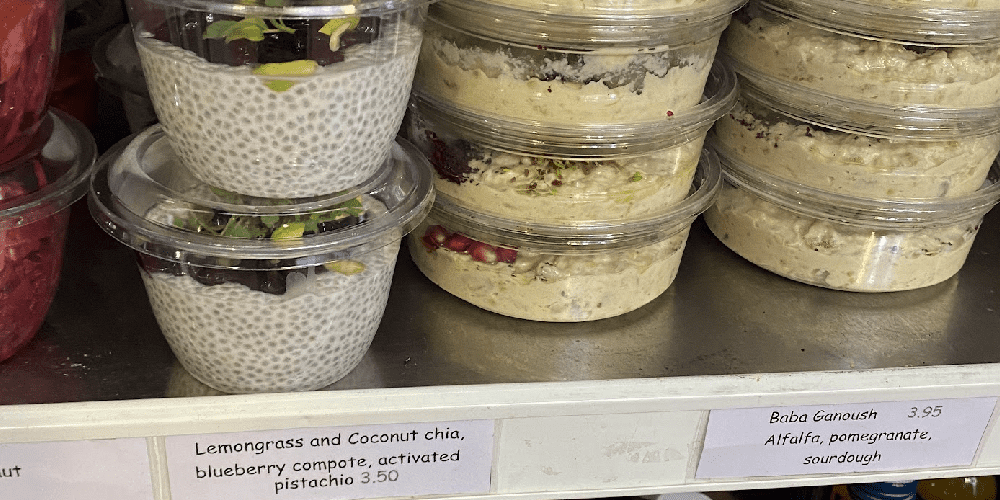 Likely the best bang for both your nutritional and financial buck in terms of snacks is either the Chia Seed Pudding or grabbing a fresh, micronutrient-packed juice for busy days - either one will cost you £4.95 or £3.50, respectively.
Best high protein option
The chicken fillet or tempeh fillet addons are both affordable and efficient; whilst boasting 20-30g of decent protein, they come in at a price of £4.95 and £2.50, respectively.
Best balanced macronutrient option
The herb-brushed tuna is a fantastic choice for both taste and nutritional value. The combination of plants and fish is one to make the Mediterranean Diet aficionados cry out with joy!
Best low-carb option
For those of you who prefer to prioritise your avocados and cashews over carbs, Eat Activ have some great low-carb options to choose from. The BBQ Korean Salmon is a dish that is packed full of flavour without stuffing in the starches.
Best veggie option
The Grilled Halloumi Activ Wrap is both affordable and delicious, whilst simultaneously packing in the protein - it's an optimal choice for health-conscious eaters.
Best vegan option
For vegans, the Quinoa and Beetroot Activ Wrap is a sumptuous choice, as well as providing you with essential amino acids for wellbeing and energy.
Additional Info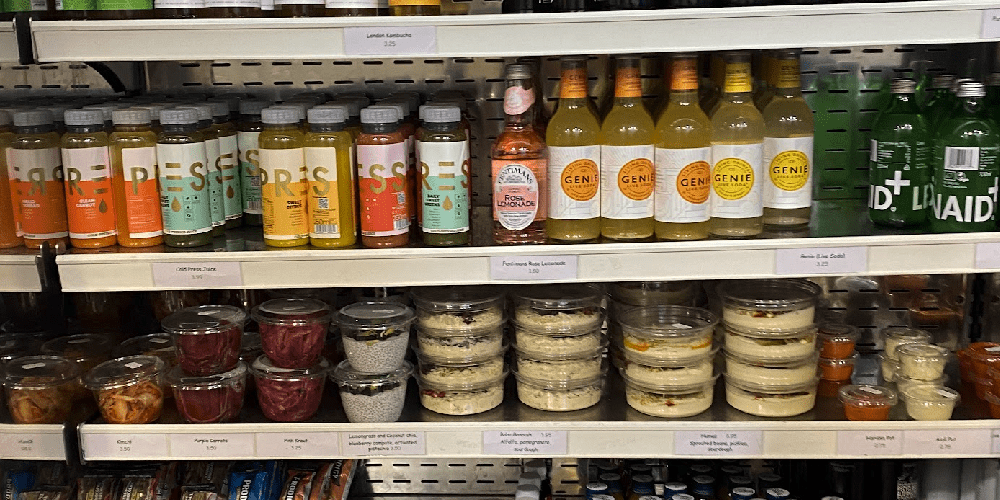 Perhaps most important of all, Eat Activ also boasts its own range of delicious and nutritious desserts - it would be remiss of me not to mention the Chocolate Fudge or Crackle one can nibble on if they wander in there!